HANNOVER, Germany — November 7, 2023 — The global trade fair for carpets and floor coverings will once again open its doors in Hannover from January 11-14, 2024. During the annual DOMOTEX Preview , Saskia Krolop, DOMOTEX spokeswoman, and Sonia Wedell-Castellano, Global Director of DOMOTEX events worldwide, revealed which highlights are in store for visitors during the 34th edition. Other speakers included interior designer and trend expert Holly Becker, Managing Director of Kronoflooring GmbH Markus Oberbauer, Managing Partner and Shareholder of Paulig Teppichweberei Theresa Paulig and Chairman of the Board of the MEGA-Gruppe Volker König.
Roundabout 1,000 exhibitors from 130 nations will participate in January – including many market leaders such as Tisca Austria, ABC Italia, Javi Home, Rezas, Oriental Weavers, Merinos, Otto Golze, Lalee, Amorim, SwissKrono, MeisterWerke, Design Parquet, Republic, mFLor, Neuhofer, SELIT, Välinge and many more. In addition, DOMOTEX offers a variety of inspiring and informative special displays, which provide important stimuli for the day-to-day business of all participants. These include THE GREEN COLLECTION , the RETAILERS' PARK and the Mood Spaces designed by Holly Becker . A particular highlight of the upcoming event will be Insight Italy. For the first time, DOMOTEX – Home of Flooring will present a dedicated country focus, providing insights into the trends, designs and innovations of the Italian carpet and flooring industry.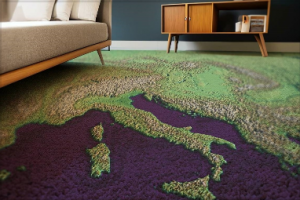 Insight Italy: Experience Italian trends up close at DOMOTEX 2024
In January 2024, visitors can look forward to the premiere of the new Insight concept. "Have you ever wondered why a material, a design or a specific product is well received in one country but doesn't really appeal in another? Our Insight concept gets to the bottom of these questions by getting to know a country in detail," explains Sonia Wedell-Castellano, emphasizing the intended ambition of the new special display: "We want to provide exclusive insights into the individual markets to help our visitors to better understand them and find their way around in these markets. In addition, the special display serves as a source of inspiration and is intended to promote exchange within the community."
What's Insight Italy?
With a total of 600 m² in the halls 2 and 22, design-oriented and creative Italy will kick the new concept off. With extraordinary trend presentations by Italian designer Camilla Bellini and interior designer Gaia Miacola, an exhibition by materials expert Materially, collaborations with interior and industry media, a cozy networking area and inspiring contributions in the DOMOTEX on Stage conference program, architects, interior designers and buyers in particular will have to use all their senses to grasp Insight Italy.
"At Insight Italy, we are focusing on the importance of materials in interior design. Through contributions from designers and material experts such as Materially, we want to provide new perspectives and ideas and show the contribution of Italy in the field of sustainable carpets and floor coverings," explains Andreas Züge, General Manager Hannover Fairs International GmbH. The latter is the focus of the exhibition "Il cielo in una stanza" ("The sky in a room"), in which Materially takes participants on a journey through Italian research on sustainable flooring solutions.
Nonstop from Milan to Hannover & back: Exclusive charter flights during DOMOTEX
For visitors from Italy, DOMOTEX 2024 is offering direct flights from Milan Malpensa Airport (MXP) to Hannover (HAJ) every morning and evening from 10 to 13 January 2024. The flights can be booked as a one-way trip or including a return flight for 270 euros each way via the following platforms:
www.skyalps.com/it/
www.skyscanner.it
www.momondo.it
www.opodo.it
www.booking.com/
www.flug.check24.de/
The global flooring community meets in January
For decades, DOMOTEX in Hannover has been the meeting point and platform for the entire global flooring industry and is the only event worldwide to successfully unite the worlds of carpets and floor coverings in one place. With 1,000 international exhibitors and inspiring special displays, the event in January 2024 will once again offer all trade fair participants not only a comprehensive and unique market overview of all product segments, but will also prove once again that it continues to be the industry's most important trade, innovation and trend platform.
Sonia Wedell-Castellano concluded her contribution to the DOMOTEX Preview with an invitation to all visitors: "Join us at DOMOTEX! Come to Hannover – find out about the latest trends and new products and exchange ideas with exhibitors and participants. It's definitely worth it!"
DOMOTEX | Home of Flooring
DOMOTEX 2024 will take place from January 11 to 14 at the Hannover exhibition center.
Posted: November 7, 2023
Source: Deutsche Messe AG