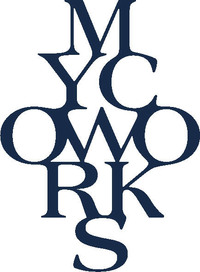 UNION, S.C. — October 25, 2023 — MycoWorks celebrated the opening and start of production at its first full-scale Fine Mycelium™ facility in Union, S.C., with a ribbon-cutting attended by South Carolina Governor Henry McMaster, as well as other government officials, community leaders, brand partners, and supporters. The world-class manufacturing plant gives MycoWorks the capacity to scale-up to meet demand for their luxury leather-like material Reishi™. Produced with the company's patented technology for partners including Hermès and Ligne Roset, MycoWorks' new plant has already made a significant impact by spurring new investment in Union's storefronts, housing, and employment portfolio.
Union, S.C. to Lead in U.S. Biomaterials Manufacturing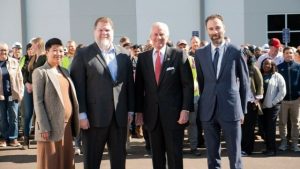 Situated in the Upstate region's thriving manufacturing corridor, local officials expressed excitement for MycoWorks' new facility and are welcoming the opportunity for Union to bring this new industry to fruition. With MycoWorks' technological advancements to the materials sector and its commitment to bringing competitive jobs to the region, the first-of-its-kind facility is positioning South Carolina to lead the biomaterials industry, reshoring luxury textile manufacturing to the United States. In celebration of this industry-first achievement, attendees had the opportunity to witness the factory's cutting-edge technology and learn about the diverse applications of MycoWorks' biomaterial Reishi™.
Built on-time and on-budget, the 136,000 sq. ft. factory is the world's largest mycelium production operation. For the leather industry, MycoWorks' Union facility is a breakthrough in supply chain management, providing full predictability, transparency, and provenance of high-quality natural materials while remaining efficient and low-impact. Marrying the latest technological advancements with old world craftsmanship, the team in Union will be creating a product of the highest standards and will be the first-movers in an industry on track to be world-changing.
"I was proud to join with MycoWorks to celebrate the grand opening of their new Union facility," said Governor Henry McMaster. "It's great to add a biomaterials manufacturer to South Carolina's expanding range of products and services, and we look forward to the opportunities this investment will bring to students and technicians across the state."
MycoWorks' choice to open its first-commercial scale manufacturing plant in Union signals its long-term commitment to outreach, employment and education, going beyond standard manufacturing practice to build a supportive and empowering work-environment with rewarding benefits.
MycoWorks is actively recruiting from education and training networks in the state
With support from readySC at SC Technical College and EmployersNetwork, the biomaterials company has continued to recruit top-tier technician talent from the region. MycoWorks hopes to empower college and high school students to innovate through engineering and manufacturing with ongoing outreach to networks including USC Union, Spartanburg Community College,and Union County Schools. The biotech company's team of operation and manufacturing leaders hail from the consumer goods, automotive, food, pharmaceutical, and biotechnology industries, and are excited to show a new generation of changemakers how creative materials science can be.
MycoWorks to bring high-quality jobs with competitive benefits
The biotech company was awarded a $30 million allocation of the federal government's New Markets Tax Credits (NMTC), flagging the grant's support to bring high-quality jobs to Union County. To date, MycoWorks has employed over 150 employees at the newly-opened facility, of which 90 percent are technicians being trained to manage the company's proprietary technology, Fine Mycelium™.
At full capacity, the facility will employ nearly 400 people in its operations. Dedicated to the personal and financial growth of their employees, each new full-time hire at MycoWorks is granted incentive stock options through the company's Employee Incentive Stock Option Plan. The grants vest over a four-year period and employees may begin purchasing their equity after one year of service, a new and welcome benefit to the South Carolina team at MycoWorks.
Local Support has Reshored American Textiles Back to the State
Fostered by the state's economic incentives and strong support provided by South Carolina Department of Commerce and the Union County Development Board, MycoWorks chose Union's tight-knit community for their eagerness to elevate the region's global manufacturing profile and clean business portfolio. MycoWorks' facility derives 98 percent of its power from nearby solar and hydroelectric plants provided by the renewable electric provider Lockhart Power.
"At MycoWorks we believe our success comes from the creativity and expertise of our team," said Doug Hardesty, Chief Operating Officer. "Our outreach to the region is critical to our success.  Our partnerships with the Upstate educational ecosystem and the leadership in South Carolina will enable us to bring continued training and high quality jobs."
Tuesday's ribbon-cutting celebration enabled MycoWorks supporters and community stakeholders from across government, business and education to celebrate the grand achievement towards growing the future of materials in Union County, S.C.
As a token of appreciation to the community, MycoWorks has made a donation to the Junior League Charity, a women's leadership organization supporting community impact initiatives.
To learn more about employment opportunities at MycoWorks, visit https://www.mycoworks.com/careers
Posted:October 25, 2023
Source: MycoWorks