LEONBERG, Germany — September 20, 2023 — Texpasa is a family business whose roots go back to 1978. Through various historical stages such as yarn spinning, circular, and flat-bed knitting, Texpasa has evolved into a state-of-the-art company that knits, dyes, and finishes a variety of textiles for the apparel market. In addition to its first plant in Guatemala City, Texpasa completed its second plant in 2020 at the Michatoya Industrial Park in Palin incorporating knitting, dyeing, and finishing facilities. The original factory is being consolidated into the new facility and the Brückner stenters, the first of which has been in operation since 2007, are currently being moved to Palin with the support of Brückner technicians.
David Franco, maintenance manager of Texpasa, is highly satisfied with the support of the service team: "Brückner builds high-quality machines and offers excellent service. We have known this since the purchase of our first stenter. The support during the relocation of the machines from Guatemala City to Palin also shows us that Brückner is a service partner we can rely on even in the case of big challenges. The machines were carefully dismantled and packed with Brückner's support. They arrived in good condition and are being reassembled and put into operation without any problems."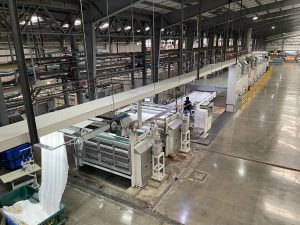 A total of seven Brückner tenter frames with vertical chains will be operating in the Michatoya plant from the start of 2024. The latest POWER-FRAME stenter with 10 bays was put into operation in 2022. All Brückner tenters in the Michatoya Industrial Park are counter-construction. Thus, the heating and ventilation elements change the dryer side every 1.5 meters, which leads to an absolutely uniform air admission, i.e. a very homogeneous air quantity and temperature distribution over the entire fabric web width. They offer the highest possible drying performance and process control matched to the fabric quality thanks to the technically mature and proven split-flow ventilation system. This is extremely important for the major sports and leisure brands in which Texpasa supports. Robust and low-maintenance chains, chain bars, and pin bar carriers stand for long service life and low wear. The finishing results are exactly reproducible and overdrying of the fabric during machine standstill is excluded by the air bypass system. Minimal air pressure losses and high-quality insulation result in the lowest possible electrical and thermal energy consumption and thus in low production costs.
Sustainability is important to Texpasa in numerous aspects: The company has allocated capex into sustainable and reusable green energy, e.g. photovoltaics, and biomass, and has planted together with partners 60,000 trees in a biomass forest for the future, thus reducing the CO2 footprint. Another sustainability building block is the wastewater treatment center, with a capacity of up to 100 cubic meters of water per hour. After treatment, the water meets or exceeds all purity regulations.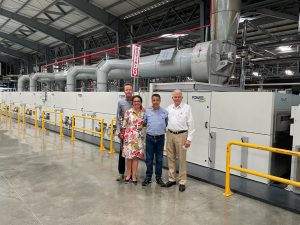 Francisco Solares, GM and Vice President of Texpasa puts it in a nutshell: "The Brückner machines perfectly fit our demanding sustainability concept. The quality of the finished fabric is excellent and the stenters impress with energy efficiency and low production costs. We appreciate very much that Brückner accompanies us as an innovative supplier of high-quality textile finishing lines and reliable service partner". Brückner appreciates this long-standing customer, too: Regina Brückner, CEO says: "As a traditional and highly innovative family-owned company, we attach great importance to sustainability both in our production facilities and in our products. Texpasa is a very good example of how investing in the future, sustainability, and environmental protection can go hand in hand. We are very pleased about this long-standing cooperation and wish Texpasa continued success."
Posted: September 20, 2023
Source: Brückner Trockentechnik GmbH & Co. KG