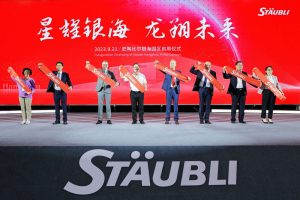 PFÄFFIKON, Switzerland — September 22, 2023 — Stäubli, a global leader in industrial and mechatronic solutions, officially inaugurated the Yinhai R&D and Intelligent Manufacturing Base only a few minutes away from its existing production site in Hangzhou, China. The substantial extension to its Chinese main base marks a milestone on the company's growth path in the region.
The opening of the new buildings in Hangzhou, covering an area of 25,000 square meters, allows Stäubli to better serve its Chinese customers by localizing the assembly of its product lines. This includes scaling up the production of its world-leading Original MC4-Evo2 PV connectors, as well as TS2-60 SCARA industrial robots, among other products. Additionally, an expansion of Stäubli's Research and Development activities in Hangzhou will help the company to better and faster cater to the needs of Chinese and other Asian customers.
Taking this step, Stäubli China invests in the construction of a local R&D and manufacturing base for products across all four industrial divisions: Electrical Connectors, Fluid Connectors, Robotics and Textile. Different intelligent manufacturing systems will notably bring advancements in operational efficiency such as production planning, logistics and warehousing, guaranteeing an optimized delivery time. New process monitoring features will further support the application of Stäubli's century-old international production standards and global quality management.
Major milestone for Chinese operations
The extension to the Hangzhou site is part of Stäubli's overall plans to achieve a significant sustainable growth, in which Hangzhou is meant to play a key role: "At Stäubli Group, we recognize the immense potential that China holds for us, and we are therefore proud to enter into a new era with today's inauguration", said Gerald Vogt, CEO at Stäubli Group, stated in his opening speech.
Customers, partners, local authorities and Stäubli employees were given the opportunity to visit the new campus in a guided tour. One of the highlights was the modern design of the building, explicitly conceived to foster innovation and collaboration in a dynamic environment. As part of the objective to achieve carbon neutrality in the park's operations in the long term, a rooftop installation of solar panels currently meets 15 percent of the yearly electricity consumption of Yinhai Industrial Park. Further supporting this goal, the use of advanced insulation materials and technologies in the building itself reduces reliance on air conditioning and heating systems and lowers energy consumption.
Strategic importance of an Asian hub
With its entrepreneurial spirit and the new campus, Stäubli is ready to support the Chinese textiles, photovoltaics, automotive, metals and plastics industries, among others, as a technological pioneer and trusted partner. "The additional industrial park will further strengthen Stäubli Hangzhou's position as the Asian hub for the Group's local market research, development, and manufacturing," said Zhenhui Zhang, managing director of Stäubli China, said during his speech.
The history of Stäubli Hangzhou dates back to 1997, with the plant being the Group's first production site outside of Europe. Since then, the Hangzhou site continuously expanded, and the Stäubli Group has grown to 12 offices in mainland China with more than 800 employees serving all four Divisions: Electrical Connectors, Fluid Connectors, Robotics and Textile.
Posted: September 22, 2023
Source: Stäubli International AG