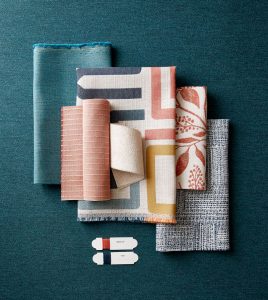 BURLINGTON, N.C. — July 10, 2023 — Trivantage — a one-stop shop for fabrics, hardware, and accessories — announced its most recent update to the best-selling Sunbrella Fusion Collection. The upholstery collection — updated every three years to meet modern design needs — is distributed exclusively by Trivantage.
The news comes on the heels of a recent collaboration with Rockwell Group, the Currents Collection, also distributed exclusively by the company.
"Each offering within Sunbrella Fusion is uniquely different yet also layers beautifully with other Fusion designs for truly distinctive living spaces," said Jimmy Barnhardt, sales manager of decorative fabrics for Trivantage. "We hope the new patterns inspire designers and fabricators to imagine new possibilities with fabric."
Made for outdoor or indoor furniture, Sunbrella Fusion is ideal for patio furniture, sofas, pillows and more. The durable fabrics stand strong against water, staining, mildew and color loss. Built for continued use, they resist pilling and tearing with many varieties suited for high-traffic areas.
As with all Sunbrella fabrics, the Fusion collection offers softness and comfort, along with a synergistic blend of artistry and performance.
Sunbrella Fusion fabrics are sold by the yard, backed by a five-year limited warranty and compatible with Sunbrella Clean, Restore and Extract products. For more information, visit trivantage.com/fabric-upholstery-sunbrella-fusion.
Posted: July 11, 2023
Source: Trivantage