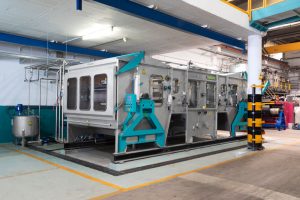 ARTEIXO, Spain— April 24, 2023 — Inditex recognizes HYDRA, the semi-continuous process machine patented by TVE ESCALE, as the best option for high-performance textile pre-treatment and washing. HYDRA combines continuous line technology with discontinuous methodology. It combines various washing techniques such as vacuum, submerged suction, and counterflow to get the best results. All this autonomously and automatically.
Despite being semi-continuous, HYDRA offers the same performance as continuous processes. All this occupies less space and with a lower initial investment. The most important thing, as INDITEX points out, is its ability to save up to a total of 26 percent of water, 17 percent of electricity, and 23 percent of steam during the entire finishing process.
Another of its advantages is the capacity to process fabric rolls of up to 1,600 millimeters in diameter, which surpasses any discontinuous machine on the market. On the other hand, compared to continuous machines, HYDRA offers greater versatility, flexibility, and resource savings.
HYDRA will show up in hall 14 booth C103 at ITMA 2023 Milan, Italy.
Posted: April 24, 2023
Source: Inditex