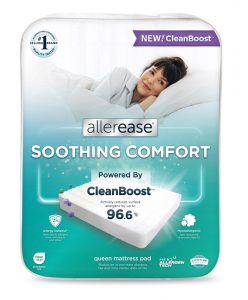 NEW YORK CITY — March 10, 2023 — Bedding manufacturer American Textile Co. (ATC) has entered a partnership with the Switzerland-based materials innovation company HeiQ to upgrade several bedding products with HeiQ Allergen* Tech for the North American market.
ATC and HeiQ announced a partnership for HeiQ Allergen* Tech application to mattress and pillow protectors, pillows, mattress pads, comforters, as well as blankets, throws, and other bedding product categories covering the USA, Canada, and Mexico, intended to deliver deeper relief to allergy sufferers.
The first products from ATC featuring HeiQ Allergen* Tech will be available in the market in 2024 under the renowned brands AllerEase®, the No. 1 selling allergy bedding solution in North America, and Sealy®, the No. 1 selling overall bedding brand. Products featuring HeiQ Allergen* Tech will be marketed under ATC's own CleanBoost™ technology name.
HeiQ Allergen* Tech was launched at the end of 2022 and is a 100-percent bio-based, naturally derived technology that reduces users' exposure to inanimate allergens such as house dust mite matter, and pet allergens with the help of active probiotics. It provides one of the easiest and most cost-effective ways to reduce allergen exposure in the bedroom.
This innovation from HeiQ has been granted the Allergy UK Seal of Approval by The British Allergy Foundation following a comprehensive review and assessment of the technology. Additionally, it has been tested and certified by BMA Labor, an accredited lab in Bochum, Germany, to successfully reduce 96.6 percent of house dust mite matter allergen, 83.6 percent of cat hair allergen, and 76.5 percent of dog hair allergen.
Patrick Seiffert, senior vice president of Product Development and Marketing, ATC, said: "Our new AllerEase CleanBoost products will be the first-ever solution to offer dual-action protection against allergens. By combining our expertise in allergen barrier bedding with HeiQ's revolutionary fabric technology, we are proud to introduce a product that not only blocks inanimate allergens but also reduces them on and around the bedding. Our flagship AllerEase brand has been trusted by millions of consumers seeking allergy relief for years, and this new partnership allows us to offer them a new level of unmatched protection. We are excited to be the strategic partner for HeiQ's innovation and look forward to continue delivering new ways to help consumers sleep better and live better."
HeiQ Group Co-Founder and CEO Carlo Centonze said: "We thank ATC's trust in HeiQ over many years. ATC has always been a pioneer in adopting HeiQ's latest innovations and bringing functionalized bedding products to their consumers. HeiQ Allergen* Tech was only launched in October last year and has been really popular so far. This proves our ability to rapidly develop and commercialize technologies that meet global demand. Our nature-based hygiene solutions are revolutionizing the multi-billion-dollar home textiles market. With over 90 percent of bedrooms in the US containing three or more detectable allergens, our partnership with ATC will make a real difference in people's lives, and that's what matters most to us. HeiQ Allergen* Tech can significantly improve bedding products, but it can also be applied to curtains, carpet, and upholstery."
Upgraded products under this partnership between the American Textile Company and HeiQ will be launched at the Home & Textiles Market Week in New York March 13-16. Products featuring HeiQ Allergen* Tech will be showcased in the ATC Showroom at 230 Fifth Avenue, 15th Floor, NY 10001. The collaboration comes at a time when consumers are beginning to experience the first effects of the spring allergy season and scientists say allergy seasons are becoming longer and more intense.**
*Inanimate allergens such as house dust mite matter & pet allergens.
**According to the USDA
Posted: March 14, 2023
Source: American Textile Company / HeiQ Group