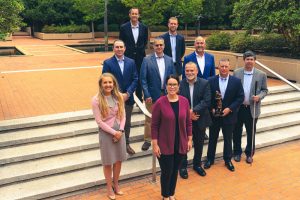 SPARTANBURG, S.C. — June 15, 2021 — Milliken & Company has been named Partner of the Year by IFB Solutions. In its 15th year, the prestigious award is given to the partner who has stood out as an organization that has gone beyond the board room to support opportunities for people who are blind. Milliken was selected from more than 400 IFB vendors.
"It's an honor to receive an award of this caliber from a partner like IFB," said Chad McAllister, executive vice president of Milliken & Company and president of the Textile Division. "IFB has shined a light on how to do business for good, going above and beyond to positively impact their community. We are honored to call them a partner and look forward to continuing to support their mission for years to come," he adds.
Milliken has been working with IFB, a US-based manufacturer who provides employment to people who are blind or visually impaired, since 2008 as a U.S. military fabric supplier. Since then, the partnership has provided more than 245,000 hours of work for people who are blind or visually impaired. In addition to the business relationship, Milliken has donated more than $30,000 to IFB over the years to support jobs, training and services for the blind.
"All of us at IFB Solutions are incredibly grateful to the Milliken & Company team for their contributions to our mission. As a non-profit, our mission is to provide opportunities for people who are blind or visually impaired in need of training, employment and services. For more than a decade, our partnership with Milliken has provided countless opportunities for adults and children who are blind all over the country resulting in thousands of lives changed for the better," said David Horton, president and CEO of IFB Solutions.
Posted June 15, 2021
Source: Milliken & Company