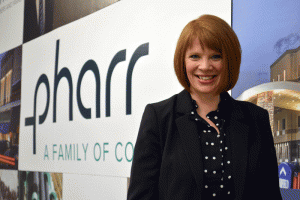 MCADENVILLE, N.C. — May 16, 2019 — This week, the newly-installed National Council of Textile Organizations (NCTO) President and CEO Kim Glas spent time in the Carolinas engaging with the industry. Glas met with executives at Milliken and Company, Spartanburg, S.C.; was a featured speaker at the Southern Textile Association (STA) Southern Division Meeting in Clemson, S.C.; and spent a day at Pharr, A Family of Companies, in McAdenville, N.C., where she toured several yarn spinning plants and hosted a meet and greet with industry executives. Glas said she was in the Carolinas to hear about what is important to the industry.
Glas also held a media briefing at Pharr where she discussed her plans for the first 100 days of her tenure, noting that this is a transition time for NCTO. "Transitions are a time of challenge, but also a time of great opportunity," Glas said. "So, I'm all ears and that's why I'm here today to hear from the industry themselves about what they see, not only about the future of their business, but the future of NCTO."
Kim reported she has essentially five priorities for the first 100 days:
To get to know the industry, and the businesses in the industry.
"A lot of the industry I know, but there are some folks in the industry I don't know," Glas said. "So I'm going to be reaching out, visiting plants, talking to members. And not only figuring out what are they making now, but where do they want to go as an industry. What are their sustainability initiatives? How best can NCTO represent their voice on Capitol Hill and in the administration?"
2. Meeting key allies and stakeholders, and people who should be key allies and stakeholders on Capitol Hill and in the administration.
"There is a huge change in terms of what's happening in Congress these days and the composition and we need to get up and talk to members of congress about our industry and some of the issues that are on the front pages of the news — whether it's trade policy or regulatory issues," Glas mentioned.
3. Strengthening NCTO communications.
"We are delighted that our vice president of communications Kristi Ellis has come on board, and we have Rebecca Tantillo who is handling a lot of our digital operations," Glas said. "… [NCTO's] obviously had a branding campaign 'We Make Amazing,' [but] how do we take that campaign to the next level? Are we reaching all our key stakeholders that we're trying to communicate with about the innovation happening in the industry, and what the industry sees in terms of a proactive agenda moving forward?"
4. Building the industry association to make it stronger.
Glas said: "What are services that we can provide that would be of benefit to the industry? Now that there have been some [association] mergers, now it's time to reflect and think about our strategy moving forward."
5. Getting to know the staff.
Glas is no stranger to the textile industry. Previously in her career, she served as the deputy assistant secretary for Textiles, Consumer Goods and Materials at the U.S. Department of Commerce under the Obama Administration, where she oversaw efforts to improve the domestic and international competitiveness of the U.S. textile and apparel industries. Glas also worked closely with the United States Trade Representative, key agencies and Congress to advance various critical trade policy issues including changes to the CAFTA-DR agreement.
Glas has a very favorable impression of today's textile industry and is enthusiastic about educating law makers in Washington about the industry and the great things that are happening.
"When I was the deputy assistant for textiles, … [the United States was] the fourth largest exporter [of textiles] in the world," Glas said. "And now that data shows we're the second largest textile exporter in the world. And when I say that to Capitol Hill stakeholders and the administration, it just sort of blows them away that this industry is not only alive, but is doing really well.
"I'm always constantly impressed with the level of investment that the industry is making," Glas noted. "Just going through the plant today at Pharr, you see the level of investment they are making. Some $2 billion has been invested by this industry in the latest data that we have from 2017, so the amount of technology, the automation happening in the industry and the diversity of the products that we're making is great.
"I look forward to seeing how the industry continues to transform itself over the next five years," Glas concluded.
Posted May 16, 2019
Source: Textile World, Rachael S. Davis, Executive Editor