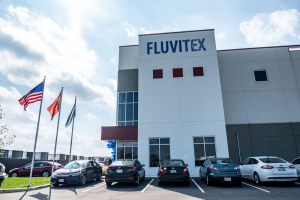 COLUMBUS, Ohio — October 3, 2018 — On Wednesday, October 3, 2018, the long-term IKEA supplier, Fluvitex, celebrated the grand opening of its first U.S.-based production facility. The factory will bring about 80 new jobs to the Columbus, Ohio area.
In the new 123,588 square-foot facility, Fluvitex will produce bedding textiles that include fiber-filled quilts, pillows and cushions — all for IKEA customers in North America and potentially also supplying IKEA's coming South American expansion.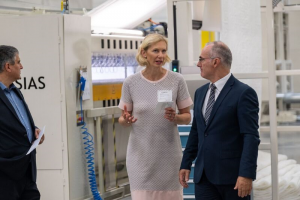 "We wanted to find more efficient textile production than what we had available. IKEA started collaboration about seven years ago in Spain with the machine supplier Masias and its subsidiary Fluvitex. Together we designed a new concept that increased the production efficiency by about 50 percent. Now we take this concept to the United States," said Nora Zullo, purchasing and logistics area manager for Inter IKEA Group in the Americas Region.
The factory will produce about two-thirds of the quilts, cushions and pillows sold through IKEA stores and the Web in North America. The efficient production closer to the selling markets will also result in reduced carbon dioxide emissions.
"IKEA is constantly striving to offer our customers better, more sustainable products at lower prices. We can't do this alone. Long-term partnerships with suppliers are essential to our business model, and this event today is a great example of such a partnership," Zullo said.
To IKEA it is important to have suppliers who share the IKEA values.
"Fluvitex and IKEA share common values and business idea. For example we have been inspired to comply with, and go even beyond the IKEA Code of Conduct, IWAY," said Lluís Masias, founder and CEO of Fluvitex.
The new facility will provide about 80 new jobs for the residents of the Columbus area.
Located in central Ohio, the Columbus Region offers excellent logistics opportunities for supplying the total U.S. market.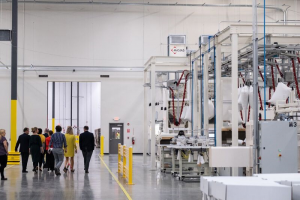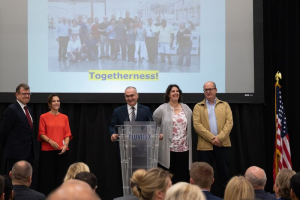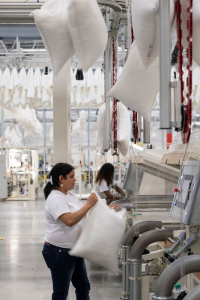 Posted October 5, 2018
Source: Ikea AB