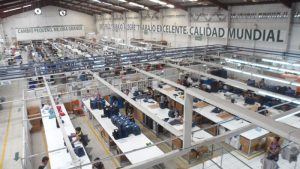 By Dr. Virgilio L. González, Textiles Panamericanos Correspondent
Since 1998, Elim S.A. has been doing business in Guatemala mainly in regards to complete package and the company is characterized by its good reputation, quick response to customers, quality and performance.
Located in Colonia La Escuadrilla of this Central American country, Elim mainly dedicates sewing activities and has:
3,500 square meters of sewing space;
320 workers, mostly Guatemalan;
290 sewing machines, mostly Juki brand;
The ability to produce 390,000 garments per month;
600 cubic meters of storage space;
A complete laboratory to test fabric quality; and
CTPAT approval for the storage area of its finished products.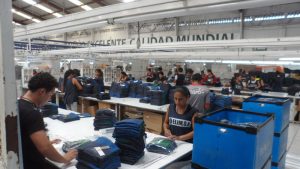 The development carried out at Elim within its factory includes:
a variety of pattern design based on tech packs. There are 16 highly-trained operators who assume the challenge of manufacturing any sample of a variety of styles.
Making samples within three days after receiving the tech pack thanks to the wide variety of types of samples already developed in 20 years of work.
Highly efficient fabric consumption, calculated using a CAD system within its production plant
The company also has seven cutting tables with a capacity of 18,000 garments per day and 5 sewing lines with a capacity of 15,000 pieces per day.
Quality Control
Throughout its history, Elim has developed an elaborate quality plan for different stages of its production process. During production, it cuts samples and checks the production made, inline and at the end, including after pressing. Upon completion of production, the company performs the respective audits.
Fabrics produced include jerseys, interlocks, 1X1 and 2X1 ribs, waffles, piques, French terry and fleece. To manufacture, Elim has approximately 900,000 kilograms of yarn stored in 100-percent cotton, cotton/polyester blends, triblends, 100-percent polyester, polyester/rayon blends and 100-percent Rayon. The company produces T-shirts, polos, henleys, fashion styles and also prints, dyes and embroiders. Elim works with brands such as Nautical, Tommy Hilfiger, Disney, Guess, Calvin Klein, Chaps, Buffalo, Edwards, Lucky Brand, New Era, ZooYork, Costco, Walmart, JC Penney, Kmart and Sears. Its exports all its production to the United States.
Printing plant
Elim also has a plant for printing fabrics in an area of 1,400 square meters housing 60 employees, four 100-percent automated machines, and a semi-automated 100-meter printing table. The installed capacity allows Elim to produce up to 1 million pieces. The company also has 4 sample machines for faster development.
Figures from last year yielded sales in the order of $30 million and its future projections predict increases to this figure. Therefore, Elim is expected to be a good example of progressive textile and to continue to be triumphant in the future.
August 16, 2018