James H. Heal Debuts Apollo2 Tester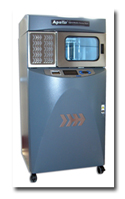 England-based James H. Heal & Co. Ltd. has introduced the Apollo
2
Xenon Arc Light & Weather Fastness Tester 800 for lightfastness testing. With the new instrument, samples being tested rotate around a 2,200-watt, air-cooled, sunlight- simulating xenon lamp. The machine features a range of optical filters that modify and control the lamp's spectral output. According to the company, operators can quickly and safely remove and replace these filters when necessary.
The Apollo
2
has preprogrammed product performance standards stored within its system, as well as a comprehensive standards menu that enables operators to edit, create and reset the 40 programmable standards. It also comes equipped with a quiet, high-speed, long-life thermal panel printer that can be used either to continuously monitor and log testing conditions, or to document each menu's setting for fault diagnostics.
In addition to simulating sunlight, the new instrument can replicate a wide range of temperatures and humidity levels in closely controlled conditions.

September/October 2008
Advertisement