O'Mara Unveils Environmentally Friendly Eco-Fil™ Yarn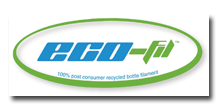 Polyester and nylon yarn producer O'Mara Inc., Rutherford College, N.C., has introduced the first filament polyester yarn made from 100-percent post-consumer polyethylene terephthalate (PET) beverage containers that have been reclaimed from the waste stream. According to the company, Eco-Fil yarn does not contain post-industrial waste such as production line rejects, factory scraps and other salvaged materials.
Features include a soft, luxurious hand, shrinkage resistance, strength, dye uptake, colorfastness, stretch, durability and manufacturability, according to the company. O'Mara also has added a fire-resistant treatment and SmartSilver anti-odor/antimicrobial finish to the yarn. The yarn may be fully or partially oriented, dyed, texturized, knit, woven, spun and finished.
The yarn currently is used in a variety of sports apparel, hosiery, and home furnishings products, among other end products.
---
May/June 2007
Advertisement