Rollguard® Unveils Thermoformed Roll Cradle
Rollguard® Products, part of Appleton, Wis.-based Great Northern Corp.'s Specialty Group, now offers the dust-free Thermoformed Roll Cradle made from reusable, recyclable polyethylene terephthalate. The cradle is suitable for loading and shipping of roll goods having diameters ranging from 18 inches to 22.5 inches.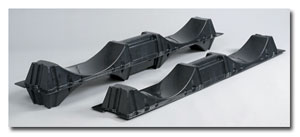 The company reports the new cradles locking hubs and end tabs provide significantly improved loading and shipping safety and stability; while its construction provides cushioning for sensitive goods, and its design enables nesting of more cradles per pallet. Other features include denesting hubs that facilitate separation of stacked cradles, a smooth surface that protects rolls from damage, and a crowned contour that relieves pressure on roll edges. Cradle lips to protect roll ends and help prevent slippage are available as options.


October 2005
Advertisement