March 2003
Snyder Industries Inc.
, Lincoln, Neb., has introduced Batch Tank Systems, a new line of durable polyethylene tanks for batch mixing, storage, dispensing and material handling.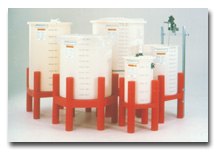 Snyder batch tank systems
ITEMA
(formerly Promatech Somet and Promatech Vamatex) and American Savio Corp. have moved to: 745 Landers Rd., Spartanburg, S.C. 29303; (864) 542-2240; fax (864) 542-2250.
Kulpsville, Pa.-based
SKF USA Inc.
offers the Reliability Maintenance Institute® (RMI) program to aid plants in eliminating machinery problems while increasing reliability and productivity. The RMI program offers focused schools of study, management courses, classroom and on-site training, as well as virtual workshops. Fax SKF (215) 513-4736 for more information.
Lonati S.p.A.
has moved its registered and administrative offices to: Via della Cascina Grassa, 3, 25124 Brescia (BS), Italy. Phone and fax numbers remain the same.
France-based
ETIC Group
, comprised of Calemard, Découp+ and Roll Concept, has launched a website at
www.etic-group.com
.
The Gessner Co.
has relocated all operations to: 100A Sturbridge Rd., Charlton, Mass. 01507; (508) 248-3941; fax (508) 248-0639.
As contracts permit,
The Dow Chemical Co.
, Midland, Mich., will increase the selling price of its Integral™, Trenchcoat™, Covelle™ and LDF specialty olefin films by 5 cents per pound.
Research Triangle Park, N.C.-based
Dow Reichhold Specialty Latex LLC
has increased the price of all latex products sold in North America by 3 cents per dry pound.
The Honduras-based thread-manufacturing plant of
Coats North America
has been awarded QS9001:2000 quality designation by the Quality Management Institute (QMI).
Fredericksburg, Va.-based
Kaeser Compressors
now offers a money-back, Sigma Frequency Control (SFC) Performance Guarantee on all SFC rotary screw compressor units. Kaeser now also offers Compressed Air and Gas Institute (CAGI) performance datasheets for its lines of SFC and direct-drive compressors on-line at its website,
www.kaesercompressors.com
.
A new electronics package for aging ovens from
Benz Materials Testing Instruments
, Providence, R.I., offers an easy operator interface; pre-configured PID controllers; and a RS232 output jack, allowing block temperatures to be controlled and graphically monitored from a PC. Available for LGB-6, -9 and -28 model ovens, the package also features a larger LCD display with 16 characters.
Industrial Indexing Systems (IIS)
, Victor, N.Y., has published a six-page, four-color brochure detailing the features and options of the Emerald EMC-2000™ Multi-Axis Motion Controller.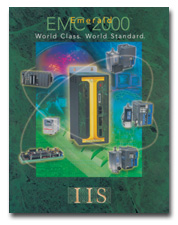 Emerald EMC-2000™ brochure
The
Association of the Nonwoven Fabrics Industry (INDA)
, Cary, N.C., now offers the " Hydroentangling Technology Primer," an overview of the hydroentangling industry, markets, growth rates and product success stories.
Houston-based
KoSa
has announced a 10- to 12-percent product price increase to its North American customers.
Niles, Ill.-based
Ircon Inc.
has revised its website, www.ircon.com. New features include a searchable frequently asked questions (FAQ) page, product selector page, new applications with solution notes and improved navigation. International pages also will be added.
The "Standard for the Use of the International System of Units (SI): The Modern Metric System," (IEEE/ASTM SI-10-2002) available from West Conshohocken, Pa.-based
ASTM International
, has been revised and updated. The 69-page document is the American National Standard for modern metric system use.
The Neptune Liquid Measurement Division of
Actaris
, Greenwood, S.C., has released Publication C-12, a 12-page, full-color brochure describing the Neptune® line of industrial flowmeters.
March 2003
Advertisement