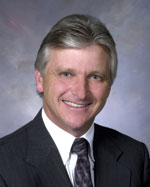 By Jim Phillips, Yarn Market Editor

Overall, many spinners were very happy with the state of their businesses in 2018. However, many remain concerned about instability in Washington and the impact that could have on the economy in the coming year.
As far as orders were concerned, they remained strong throughout the year, continuing an uptick that began in the latter half of 2017. "We are pleased with our overall business this year, and we still remain optimistic for 2019," said one spinner. "But the continuing bickering and partisanship in the federal government, especially now that we will have split majorities in Congress, causes some apprehension. It's a wait-and-see kind of thing. Everything could — and should — continue positively. But the current political environment could have everything turned upside down in a heartbeat."
At least for now, consumer confidence continues to forecast good business conditions.
The Consumer Confidence Index, published by The Confidence Board, reported a slight decline in consumer confidence in November. But, for now, the Board, remains relatively unconcerned.
"Despite a small decline in November, consumer confidence remains at historically strong levels," said Lynn Franco, Senior Director of Economic Indicators at The Conference Board. "Consumers' assessment of current conditions increased slightly, with job growth the main driver of improvement. Expectations, on the other hand, weakened somewhat in November, primarily due to a less optimistic view of future business conditions and personal income prospects. Overall, consumers are still quite confident that economic growth will continue at a solid pace into early 2019. However, if expectations soften further in the coming months, the pace of growth is likely to begin moderating."
NAFTA/USMCA
One of the major topics of the year — one that affected almost every business in the United States — was the renegotiation of NAFTA. At the end of September, The United States reached an agreement with Canada, along with Mexico, on an updated NAFTA.  The new agreement will be called the United States-Mexico-Canada Agreement (USMCA).
It will still be some time before the new agreement can take effect, as it still needs to be ratified by all three countries. The U.S. Congress will not begin debate on the agreement until early 2019. As has been noted in numerous publications, this could present a potential snag. With the House under control of Democrats, many of whom have some issues with parts of the agreement, the potential exists for USMCA to be derailed before it even begins.
Textile officials were hailing the agreement as a win for both the United States and the textile industry. "The U.S. textile industry is pleased the United States, Mexico and Canada have reached an agreement because Canada and Mexico are its largest trading partners," said National Council of Textile Organizations (NCTO) President & CEO Auggie Tantillo. He noted that products from the textile and apparel supply chain accounted for nearly $12 billion in U.S. exports to Canada and Mexico in 2017 in an NCTO release.
More Capacity On The Way
The U.S. yarn spinning industry began to thrive again when it finally got to the point where production was in line with demand. In the later years of the 2010s, after years of decline, the industry began to grow again. Numerous new plant announcements have been made in the past several years. "One of the big issues we have when demand is high, is that there are not enough ring-spinning spindles to meet customer demand in a timely fashion," said one spinner. "Along with quality and production efficiency, speed to market is one of our industry's most important advantages."
Part of that issue will be solved by Keer America's second spinning plant in South Carolina. The state-of-the-art ring-spinning plant began production on a limited number of spinning frames mid-year and, when fully operational, will operate 75,000 spindles capable of producing up to 40 million pounds of ring-spun yarn per year.
The first plant, which began operation in February of 2015, currently produces 1.1 million pounds of yarn per week of OE yarn. Phases III and IV, according to Keer, will be designed to produce cotton/synthetic blend spun yarns. The company anticipates groundbreaking next year.
Trade And China
In early December, U.S. President Donald Trump and China President Xi Jinping announced a "truce" in their escalating trade war. At this point, it is not known whether this means the current tariffs imposed by each country will remain in place or be rolled back to previous levels. And given the volatility of the situation, new escalations are possible. The Trump Administration is holding fast to a 90-day deadline it gave China for a new, lasting agreement. The deadline is March 1.
Spinners interviewed earlier said they have not been impacted much by the trade conflicts. "I don't think we've seen any effects of it at all to this point," said one industry observer. "It really depends on what happens next. We would certainly like to see textile and apparel products get more protection. If things don't settle down, I think you will start to see a lot of U.S. companies look for suppliers in other Asian countries."
In the January/February 2019 edition, Yarn Market will report on spinners' expectations for the coming year.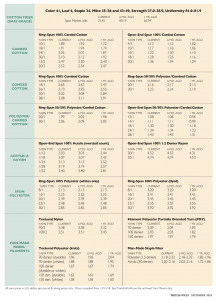 December 2018