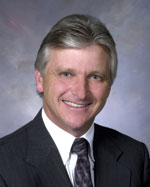 By Jim Phillips, Yarn Market Editor
F
or the better part of the last decade, it has been a Yarn Market tradition to use the December column to reflect back on the past year and then begin the new year in January with a look at the prospects for the coming 12 months.
In years past, the review focused on the mercurial business conditions that had spinners optimistic one month and then depressed the next. Not so in 2015. Overall, the year has been very good for most spinners, with high demand across multiple categories. As has been the case for the past 24 months, ring-spun cotton yarn continues to be in short supply, and, with production capacity stretched to the limit, smaller customers are having to scramble to get their needs fulfilled.
"Combed cotton ring-spun has very limited availability," one well-positioned yarn broker said. "There are still not a lot of companies in the United States that produce combed-cotton ring-spun. For now, there's just not enough combed-cotton ring-spun to go around. That's actually created a pretty good situation for those companies producing the yarn."
The high demand for ring-spun cotton has opened the door for open-end and synthetic yarn spinners, both of which have also seen favorable business conditions throughout 2015. "One of the things that happened a few years ago, when cotton prices went through the roof, was that a number of customers replaced their 100-percent cotton products with blends," said one spinner. "Once cotton prices stabilized, some of those customers went back to all cotton. But others have continued to use blends, keeping demand relatively stable."
Order Size Remains Small
Perhaps the biggest change in 2015 over past periods of sustained prosperity is the size of orders. "Ever since the recession in 2008, very few customers order more than exactly what they need at the time. "We are running flat out," noted one specialty spinner. "Our challenge now is not to get too far behind. But with all of the changes we are making – orders are still short—it's everything we can do to keep up."
Not only are orders still relatively small, at least for most specialty spinners, the variety of yarns spun is on the rise. "It seems that everybody wants something different – some way, big or small, to differentiate their products from others," said one spinner. "It requires us to do a lot of changing out. But that's just the nature of the business these days."
The combination of high demand and decreasing raw material costs has also provided spinners with the opportunity to enhance margins, which have historically been very thin for this industry. "Some customers look at the falling price of cotton and wonder why we haven't cut prices across the board," said one spinner. "But we cannot afford to make yarn today at the prices some customers want to pay. But the steady business we've had over the past 18 months and the stability of material prices have enabled us to improve our return, which, in turn, enables us to put more money back into the business."
Last year saw the beginning of a trend in increasing industry capacity "We finally got to the point a couple of years ago where we reached the equilibrium point," said one industry observer. "We had reduced spindles to the point that our capacity roughly matched demand. Now, however, as more programs are beginning to move back, we are finding that we have too little capacity in some sectors." In recent times, for example, companies in Brazil, Canada, China, Dubai, Great Britain, India, Israel, Japan, Korea, Mexico and Switzerland, as well as in the U.S., have announced plans to open or expand textile plants in Georgia, Louisiana, North Carolina, South Carolina, Tennessee and Virginia. As one industry leader noted, "That is quite a reversal from what we had gotten used to."
That trend continued in 2015, with multiple announcements of expansion. Back in the summer, Nan Ya Plastics Corporation said it was planning an expansion of its staple capacity at the company's Lake City, SC, plant. The expansion is reported to include a new spin line with approximate 40 to 50 million pounds of capacity. The new line will be able to run a range of deniers and is expected to be operational in the 2nd half of 2016. This will be the first new virgin spin line installed in the United States in more than 10 years. Products made at the South Carolina plant include polyester chip (resin) for the textile and bottle/sheet industries, polyester staple fiber and polyester continuous filament yarns (POY, DTY, FDY, and HOY).
Also in 2015, the controversial Trans-Pacific Partnership trade agreement was ratified by member countries. As of the close of 2015, the impact on the U.S. yarn industry has not been determined. Congress must still approve the agreement, and the date for that has been undetermined. A number of congressmen and interest groups are pushing for it to be brought before Congress after the 2016 elections.
Finally, cotton prices began to rebound slightly at the end of the year. After dipping below 60 cents per pound in early Q4, prices for base quality cotton ((color 41, leaf 4, staple 34, mike 35-36 and 43-49, strength 27.0-28.9, uniformity 81.0-81.9) in the seven designated markets measured by the USDA averaged 63.02 cents per pound for the week ending December 10.
Click here to view current yarn prices
December 2015