T
he Bush administration has submitted to Congress its annual international trade report,
which outlines an "aggressive and trade-liberalizing agenda" in 2005 and the remainder of President
Bush's second term. The report states that since 1985, the United States has completed negotiations
on free trade agreements (FTAs) with 12 countries, and 12 more currently are being negotiated. The
report also states that, taken together, these 24 FTAs constitute a $78 billion market, which would
be the third-largest market for

US exports.
Former US Trade Representative Robert B. Zoellick, who authored the report before moving to
the State Department, said the FTAs have "advanced America's interests" by opening new markets for
products and services, increasing protection of intellectual property, streamlining customs
procedures and strengthening labor and environmental laws. He said the administration's actions
have resulted in "leveling the playing field" and lowering costs of goods purchased by consumers in
the United States.
Turning to 2005, the report states the administration will expand on its previous record and
work toward more trade liberalization, with particular emphasis on more FTAs and conclusion of the
Doha Round of trade liberalization negotiations during Bush's second term — stating completion of
the Doha Round is "a top priority for the administration." While working to open new markets, the
report says the US government will continue to focus on monitoring and enforcing existing US trade
agreements and trade laws.
The report also reviews what the administration describes as "benefits to the US" during the
10-year history of the World Trade Organization (WTO), giving the WTO high marks for opening new
markets and enforcing international trade agreements.
"Without the WTO," said Zoellick, "other countries could impose higher duties on American
exports. Without the WTO, the United States would not have the leverage it needs to address trade
barriers, including discriminatory tax policies and Customs procedures, subsidies and unjustified
antidumping actions."

Industry Reaction

As expected, US textile manufacturers see 2004 and the agenda for 2005 in an entirely different
light. The American Manufacturing Trade Action Coalition (AMTAC), Washington, reports the
effectiveness of the FTAs has been undercut by loopholes that permit non-participating countries to
benefit, and it does not see any significant markets for US textiles in the countries where FTAs
have been negotiated.
"When you look at the countries with which we have negotiated free trade agreements, you see
very little opportunities for our exports," said Auggie Tantillo, executive director, AMTAC. "For
the most part, those countries are small and poor and have little capacity to buy our products."&
amp; amp; amp; amp; amp; amp; amp; amp; amp; amp; amp; amp; lt; /font>
AMTAC is opposed to textile and apparel tariff cuts in the Doha Round, saying they would negate
any benefits of the FTAs and simply open the US market to more imports from China, Pakistan and
India, which are expected to dominate trade in the quota-free world.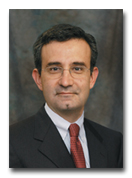 AMTAC Executive Director Auggie Tantillo

What Importers See

Retailers and other importers of textile and apparel see 2004 as anything but a major success,
as government programs contributed to uncertainty and confusion; and they see 2005 in much the same
light. While they have supported the idea of FTAs as possible alternatives to becoming too
dependent on imports from China, they say the yarn forward rule of origin and problems with Customs
have had the practical effect of diverting more sourcing to China.
Erik O. Autor, vice president and trade counsel, National Retail Federation, Washington, said
the yarn forward rule of origin, which he describes as "the only triple transformation rule for any
commodity," is not commercially feasible. Retailers believe the Central American Free Trade
Agreement can be a viable alternative to a takeover of the US market by two or three Asian
manufacturers if it can win congressional approval, but that isn't certain at this time.
Retailers also are concerned about the textile industry's efforts to use the safeguard
mechanism in China's WTO accession agreement to reimpose quotas on Chinese imports.

WTO Ruling Jeopardizes Cotton Competitiveness Program

A ruling by the WTO stating that a number of US cotton subsidies are illegal under international
trade rules could jeopardize the cotton competitiveness program that permits direct government
payments to cotton merchants and textile manufacturers when the price textile mills pay for raw
cotton is higher than world prices. Because US textile manufacturers under law are permitted to
import only a very limited amount of cotton, the program has been helpful to the domestic industry
in offsetting higher world prices that frequently are out of sync with domestic prices.
Acting on a complaint from Brazil, the WTO said the so-called Step 2 of the competitiveness
program is illegal. While the WTO does not have authority to take any direct actions against the
subsidies, Brazil would be permitted to retaliate against US products. The National Cotton Council,
Memphis, Tenn., and US government trade officials are studying the ruling and looking for ways for
the United States to have cotton programs that would be WTO-consistent. Any revisions in the
subsidy programs would require congressional action, and dropping or seriously harming the programs
is not likely to be very popular in Congress. Administration officials feel negotiations are the
best route to a solution.

Significant Import Rise After Quota Removal

Textile and apparel import data in the early months of this year following the January 1 removal
of import quotas have sent shock waves throughout the domestic textile industry. Its
representatives in Washington said the data clearly show how the Chinese are targeting key markets
and shipping massive amounts of clothing that eventually will monopolize the markets. They are
calling on the US government to take immediate steps to impose quotas on Chinese imports. In the
face of a major surge in Chinese imports, the industry representatives have called upon the
government to immediately self-initiate safeguard measures that would permit imposition of one-year
quotas with a 7.5-percent annual growth rate.
Although the industry and its labor union have filed a number of safeguard petitions based on
market disruption or a threat of market disruption, the self-initiating approach is new, and would
require considerably less time than the industry petitions.
Pointing out the industry-sponsored petitions process takes months and China's import base is
growing rapidly, Cass Johnson, president of the National Council of Textile Organizations,
Washington, said, "A long drawn-out safeguard petition process will only ensure that thousands of
US textile workers will lose their jobs to China's unfair and predatory trading practices." Johnson
pointed out that if an industry-sponsored safeguard procedure were started now, it would be at
least September before quotas could be put in place, and that would result in only a three-month
life for the quotas. At that point, the only way to get any meaningful results would be to re-file
the petitions as they expire, seeking year-to-year extensions.
Importers of textiles and apparel, who say they share the industry's concern over domination
of the market by China, said this is no time to panic, and the early data do not necessarily
constitute a trend. The US Association of Importers of Textiles and Apparel, New York City,
contends "there is no current basis for safeguard measures whether self-initiated or by request of
the US industry."
However, Tantillo argued the surge in Chinese exports is "just the tip of the iceberg," and
if history is any indication, Chinese imports will continue to soar and gain a virtual monopoly of
the US market.
With all of these activities underway in the United States, European textile manufacturers
now have joined the effort to enact safeguards. EURATEX, the major textile and apparel trade
association in Europe, has filed 12 petitions with the European Union seeking action similar to
that taken in the United States.




April 2005