I

nternational trade experts don't expect the Chinese government's plan to levy duties on
its exports of textiles and apparel to have much, if any, effect on what is anticipated by many as
a surge in Chinese exports to the United States and other developed countries. As quotas on textile
and apparel imports were being removed last month, the Chinese government announced it would
levy export duties on textiles and apparel in an effort to allay fears of importing nations,
particularly the United States, that China would quickly dominate world trade in textiles. Many
feel the duties are simply a gesture on the part of the Chinese to discourage the US government
from taking more forceful actions – including reimposition of quotas – to stem the growth of
Chinese imports.
China said initial duties will amount to 3 to 8 cents on 148 varieties of textile items
in six product categories that include outerwear, dresses, pants, knitted and non-knitted blouses,
and underwear. Duties will be levied on an item basis rather than on the value of the goods, which
would encourage the exportation of more high-end products. While importing nations dismissed the
impact of the surcharges, some Chinese government trade officials said the duties are "a good
beginning" and that they could be increased in future trade negotiations.
Cass Johnson, president, National Council of Textile Organizations (NCTO), Washington, said
the duties are "inconsequential," as they are far too small to have any real effect on trade. He
believes the duties would have to be some 30 to 50 percent of the value of products in order to
make any impact, and he seriously doubts China would be willing to go that far.
Eric Autor, vice president and international trade council, National Retail Federation,
Washington, does not see any major impact of the duties, except that they might encourage China to
put more emphasis on high-end goods and possibly leave the lower-end commodities to less developed
countries. That could be important in connection with the ongoing trade liberalization negotiations
at the World Trade Organization (WTO), he said, as China would be sending a signal that it is
willing to control its exports. Autor does not think the action will deter domestic
manufacturers from filing anti-dumping cases and pursuing the safeguard mechanism route to new
import quotas.
Following a series of meetings with Chinese officials in Beijing, outgoing Secretary of
Commerce Donald Evans said he did not think the Chinese tariffs would make any difference. "I
just don't think the steps of putting a few cents tax on exports, or a few of the other steps, are
going to have any meaningful kind of impact on the ultimate structure of the textile
industry."

Importers Want Vietnam's Import Quotas Removed


Domestic importers of textiles and apparel are urging the US government to remove quotas on
imports from Vietnam. In letters to the US Trade Representative and the Secretary of Commerce,
the United States Association of Importers of Textiles and Apparel (USAITA), New York City, said
continuing the quotas "undermines the ability of American firms to do business in Vietnam
competitively and limits the choices available to American consumers."
Pointing out the European Union (EU) and Canada recently abolished their quotas, USAITA said
continuation of quotas would restrict sourcing opportunities for importers. The association also
noted continuing quotas would run the risk that when Vietnam makes decisions regarding investments
and market opening, the EU and Canada would be perceived as closer allies than the United States.
Vietnam, which is not a member of the WTO, did not benefit from the abolishment of quotas at
the end of 2004 by all WTO members. At present, Vietnam is not a major exporter to the United
States, as its total shipments of textiles and apparel in the past 12 months accounted for just
under 2 percent of US imports. However, Vietnam is of interest to importers as an alternative to
becoming too dependent on trade with China.

Research Focuses On Competitiveness


As textile manufacturers face a changing and increasingly competitive world, some $12.9
million of government-funded research is focusing on product innovations and new manufacturing
techniques designed to help the US industry compete.
During the coming year, the Department of Commerce will grant some $10 million for a variety
of projects at the National Textile Center, a consortium of eight textile colleges and universities
that are heavily involved in developing some pretty exciting new products and manufacturing
techniques. One promising area is the development of a super repellent for fabric that far exceeds
anything seen up until now. Another project in the works is developing methods for maintaining
the integrity of colors as they move through various stages of production. Innovations in ink-jet
printing hold out the promise of more economical, high-speed printing that can result in smaller
inventories and the ability to respond more quickly to fashion and product changes.
An intriguing new area is the development of biomedical bandages that combine fabric
and chemicals to promote more rapid healing. An important initial application is for burn victims,
but researchers feel biochemical textiles will have a great future with a wider variety of
applications. Also in the works are improved personal protection products for first responders
such as police officers, firefighters and people dealing with hazardous materials.
At the Textile/Clothing Technology Corp. ([TC]2), Cary, N.C., a $2.9 million grant is
supporting research into new product development and techniques to make manufacturing more
competitive by shortening the production cycle. Of particular interest, in view of the textile
industry's emphasis on hemispheric trade, is a major effort to help companies put together full
packages with allied companies in other countries. Work is being done on ways to help apparel
manufacturers move easily from 3-D body scanning to 2-D patterns. The goal is to generate new
patterns with shorter cycles in order to get products to market sooner. [TC]2 also has
introduced a new low-cost body scanner that will reduce space requirements and costs in the
increasingly important made-to-measure business.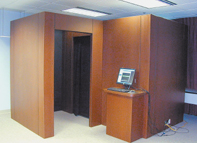 Textile/Clothing Technology Corp.'s [TC]2's new low-cost body scanner is reduced in size to
45 square feet.

Photo courtesy of [TC]2
With the federal funding, the organization also has totally updated its digital
demonstration center in order to facilitate demonstrations of innovative products and processes.
While these efforts are a step in the right direction, they cannot offset the impact of
growing imports in today's quota-free world.

US Approves Egypt Free Trade Zones


Israel and Egypt have signed an agreement with the US government establishing three
Qualified Industrial Zones (QIZs) whose products, including textiles and apparel, can enter the
United States duty-free.
The QIZs are part of a program to promote peace in the Middle East by encouraging economic
cooperation between Israel and other nations in the area.
US textile manufacturers have been opposed to the QIZs because they use a 35-percent
value-added formula to determine the country of origin for goods eligible to benefit from the
duty-free program.
They feel such a formula causes Customs evaluation problems and could lead to an influx of
transshipments from non-participating countries.
According to Egyptian government officials, the QIZs are the first step toward a broader
free trade agreement with the United States.
In the most recent 12 months for which data are available, Egyptian exports of textiles and
apparel to the United States amounted to about $530 million.



February 2005