T

extile and apparel importers and US manufacturers have taken a look at trade in the
quota-free world of 2005, and to no one's surprise, they see a picture vastly different from today.
The projections were prepared by leading textile and apparel trade associations representing
importers and manufacturers, in connection with a request from US Trade Representative (USTR)
Robert Zoellick, who wants to assess the impact of the removal of all textile and apparel quotas by
Jan. 1, 2005.
The American Textile Manufacturers Institute (ATMI) sees a world awash with imports from
China that will have a severe negative impact not only on US manufacturers, but also on many of the
125 countries that have developed an exporting business as a result of the quota system that dates
back to 1961.
ATMI believes a few countries, such as India, Pakistan and Vietnam; and those with free
trade agreements or special preference programs, such as Mexico, the Caribbean and sub-Saharan
Africa, will continue to be in the picture. That is because they enjoy tariff concessions, in
addition to quota-free access to the US market.
ATMI says China already has demonstrated its ability to dominate markets — and to squeeze
out other countries — when quotas were removed last year from some knit fabrics, luggage,
brassieres and infants wear; and imports soared. The ATMI report notes that China today is the
world's largest exporter of textiles and apparel, and that the Chinese government has decreed
textiles and apparel will remain a main export industry and employer. In addition, ATMI says, "the
breadth and variety of China's apparel production is unmatched in the world," with Chinese apparel
in the lowest-end and most price-conscious discount stores, as well as in the most prestigious,
higher-priced specialty and department stores. Not surprisingly, importers of textiles and apparel
see 2005 in an entirely different light.
The US Association of Importers of Textiles and Apparel (USAITA) says that on Jan. 1, 2005, "
The distortion that has marked international trade in textiles and apparel for more than four
decades, a comprehensive labyrinth of quantitative restriction, will finally end." The association
agrees there will be "significant shifts" in trade patterns that it says have been "artificially
altered" in the past. It also agrees China inevitably will pick up more business as a result of the
elimination of quotas, but it sees opportunities for other countries as well. USAITA believes
retailers and other apparel importers will maintain business relationships with longtime trusted
suppliers, particularly those suppliers that are vertically integrated and can provide a full
package, from inputs to completed products. It notes that Korea, Taiwan, India and Pakistan fit
that description.
The importers believe manufacturers that have developed less price-sensitive niche products
also are likely to compete effectively, and they have opportunities throughout the Western
Hemisphere as a result of duty and tariff preferences. They see a big plus in the fact that
manufacturers in those areas are geographically closer to the US market and in a better position to
provide just-in-time deliveries, shorter production cycles and better inventory control.
Kevin Burke, president, American Apparel and Footwear Association (AAFA), sees the 2005
elimination of quotas as "an extremely significant event for our industry." He underscored the
opportunities for sourcing apparel in Central America and the Caribbean Basin. Burke said many of
his association's members have considerable investments in Central America and the Caribbean in
terms of both their own factories and relationships with local manufacturers. He said, however, the
new era will present some major challenges, as apparel makers will have to find ways to work with
some of the restrictions and conditions associated with the preferential trade agreements in those
areas.

US Presses For More Trade With Africa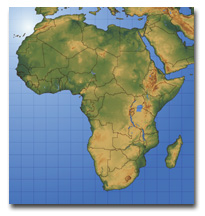 USTR
Robert Zoellick's announced plans to expand and make permanent special trade concessions granted to
sub-Saharan African nations under the African Growth and Opportunity Act (AGOA) have raised the
hackles of US textile manufacturers and may even create some problems within the African nations.
Thus far, 18 of the 38 countries in that area have been certified as eligible for the
special trade concessions. When AGOA was pending in Congress in 2000, supporters of the US textile
industry managed to obtain a yarn-forward rule of origin requiring that components be made in the
participating countries. That was an attempt to avoid illegal transshipments from third countries.
The act was to run until 2008. However, in a concession to some of the countries that had little or
no textile production, Congress agreed to allow third country components up to specified levels
until 2004. And that's where the trouble begins.
At a recent meeting in Mauritius — attended by, among others, representatives of US
companies that buy 90 percent of Africa's apparel imports — Zoellick and Rep. William M. Thomas
(R-Calif.), chairman of the House Ways and Means Committee, said they would take a look at new
legislation that would extend the third country loophole beyond its 2004 expiration date and the
act itself beyond its current September 2008 expiration. The US textile industry went ballistic,
charging that a change in the third country rule would be a multibillion dollar gift to China, a
major transhipper. African nations that have developed some textile manufacturing capability and
are investing in more saw the proposal as something that undercuts their efforts. Zoellick said he
was sensitive to these considerations, but emphasized that in general, AGOA has been a success, and
"now it's a question of expanding on that success."
AGOA could end up being another classic textile trade battle.

Free Trade Agreements Proliferate


The US government has no less than five free-trade agreements in various stages of
negotiation and implementation. The proposed free-trade pacts are with Chile, Central America,
Singapore, Morocco, Australia and a group of five nations in the Southern African Customs Union.
While all of the agreements involve a wide range of manufactured products, each will have some
impact on textile trade. Since textile and apparel import quotas are due to expire Jan. 1, 2005,
tariffs will be the only limiting factor on imports from major Asian manufacturers.
The US textile industry hopes each of the free-trade agreements will require products
benefiting from duty-free trade to be made from the yarn stage forward in the free trade region,
and that imports from third countries not be permitted. That would provide export markets for US
yarn and fabric. US importers of apparel, on the other hand, will be pressing the US government to
keep the free-trade agreements free of such restrictions, as they believe such restrictions
undercut the effectiveness of trade agreements.
President Bush has notified Congress that he is ready to sign off on the Chile and Singapore
agreements, so they could be implemented later this year, but the others are not likely to be
wrapped up until well into 2004 or beyond.



March 2003