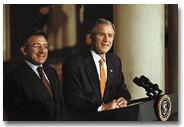 O
verseas textile and apparel manufacturers are employing new tricks of the trade to get a
bigger share of the U.S. textile and apparel market.
Immediately following the Sept. 11 terrorist attack on the United States, when it became
apparent that Pakistan would be a staging area for the U.S. anti-terrorist campaign in Afghanistan,
Pakistan sought increases in its apparel quotas for fear its export business would be disrupted by
the war. Following a meeting in Washington with Pakistan's President Musharraf, President Bush
agreed to help Pakistan by granting it increased quotas and swings within quotas, which could
amount to an additional $483 million in apparel shipments to the United States between now and
2004. Bangladesh and Sri Lanka have appealed to Washington for similar treatment in return for
their support of the war effort, despite the fact that their support is insignificant.
Turkey, which received U.S. trade concessions for permitting use of its air bases in the Gulf
War, is now seeking additional trade concessions in the form of a Qualified Industrial Zone (QIZ),
under which it could export duty-free certain apparel products to the United States. Alan Larson,
deputy assistant secretary of state for economic, business and agricultural affairs, said a QIZ
would help create well-paying jobs in Turkey through increased apparel exports to the United
States.
A top trade official in India, which unsuccessfully has been pressing the World Trade
Organization (WTO) to speed up the phase-out of textile and apparel quotas, recently urged the U.S.
government to extend to India market access concessions recently given to other countries. In
addition, India has gone before the WTO seeking changes in the rules of origin for apparel.
Presently, the rules require significant transformation of a product for it to be identified as a
product of a given nation. Changing the rule would make it easier to transship garments after
making only minor changes.

Former Bulington Executive Named To Commerce Post

The Bush administration has named a former Burlington Industries executive to one of the
government's key textile and apparel jobs. James C. Leonard, former Burlington manager of economic
analysis and director of government relations, has been appointed deputy assistant secretary of
commerce for textiles, apparel and consumer products.
In that post, Leonard will serve as secretary for the interagency Committee for the
Implementation of Textile Agreements and as an adviser to the commerce secretary on textile and
apparel matters. Leonard, who was heavily involved in textile negotiations during his 34-year
career with Burlington, is highly regarded as a textile trade expert with an unusual understanding
and experience in working on international trade issues.

Economic Stimulus Package Should Help Textiles

The economic stimulus legislation passed by Congress and signed by President Bush is likely to
be of some help to the depressed U.S. textile industry. The legislation contains provisions
granting a five-year net operating loss carryback and more favorable depreciation for certain new
property acquired by businesses.
The textile industry had sought a seven-year carryback, but industry leaders say the
five-year program is a considerable improvement over the current two years. Carrybacks permit
companies to receive refunds on taxes paid in previous years when they showed a profit. Charles A.
Hayes, in one of his last statements as president of ATMI, said the legislation is the "lifeline
textile companies have been seeking" to cope with the economic downturn.

Import Decline An Unhealthy Sign For US Manufacturers

Despite the fact that U.S. textile and apparel imports declined last year for the first time in
13 years, the decrease does not bode well for U.S. textile manufacturers. The minor decline of 0.6
percent is a reflection of what industry economists are describing as a major soft-goods recession
that's not likely to end very soon. Last year, textile mill product shipments were down 12.7
percent, and estimated sales of $54 billion were down by 6 percent from 2000. In addition, the
industry lost 67,000 jobs.
But while the economic downturn continues to be a major problem for U.S. manufacturers, some
of the underlying data behind the government's import/export reports are of equal concern. In
recent years, the U.S. industry has looked to greater access to overseas markets as a way to
survive and hopefully grow. It particularly looked to the North American Free Trade Agreement
(NAFTA) and the Caribbean Basin Initiative (CBI) as opportunities to displace some of the
ever-increasing imports from Asia. In recent years, Mexico became the largest source for apparel
imports, and under NAFTA those imports for the most part contained U.S.-made textiles.
Textile and apparel trade with Mexico, which had seen double-digit increases for the past
four years, was down 10 percent in 2000. At the same time, overseas nations moved strongly into the
trade picture, with major increases from South Korea, Cambodia and Indonesia. U.S. trade officials
attribute this increase to the fact that devalued currencies are making imports from Asia more
cost-competitive. The strong dollar also makes U.S. exports less competitive.
The American Textile Manufacturers Institute (ATMI) and its supporters in Congress are
continuing to press the Bush administration to take a variety of steps to attack problems with
international trade.

April 2002