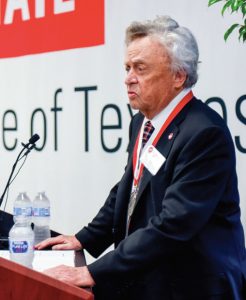 The College of Textiles at Raleigh, N.C.-based North Carolina State University (NC State) recently received a generous gift of $28 million from the family of Frederick "Fred" Eugene Wilson Jr. Fred graduated from the College of Textiles in 1961 with a degree in textile chemistry, and is chairman of the board at Piedmont Chemical Industries Inc., a family-owned and operated chemical company based in High Point, N.C.
The contribution is the largest-ever gift made to the college in its 119-year history, and to recognize a gift of this magnitude, moving forward, the college is now known
as the Wilson College of Textiles. It is only the second named school at NC State.
"This is a historic day for NC State and a truly transformational gift for the College of Textiles," said NC State Chancellor Randy Woodson. "We are tremendously grateful to Fred
Wilson and the Wilson family. Their amazing generosity means that the Wilson College of Textiles will continue to be a vital, vibrant leader in education, discovery and practical application of innovation for years to come."
The donation was made to the Think and Do the Extraordinary Campaign, which is a $1.6 billion fundraising effort to connect students with new opportunities, invest in award-winning faculty and research, and enhance campus facilities. Today, the Wilson College of Textiles is the only remaining textile college in the United States.
"When we were talking to the Chancellor about the college and about it being the only college of textiles remaining in the U.S., a lightbulb really went off," Wilson said. "Somebody's got to draw a line in the sand. We've got to remember what got us here and recognize where we can go in the future. I'm happy that we could be the ones to do that."
November/December 2018