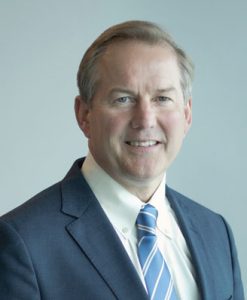 The Board of Directors of Spartanburg-based Milliken & Company has announced Halsey M. Cook Jr. will take the helm as president and CEO of the family-owned company,
effective September 1. J. Harold Chandler will continue as board chair.
Cook has a 30-year history leading large, diversified global businesses with roles in sales, marketing and product development. He comes from family-owned Sonepar USA, where he was president and CEO. Cook has a B.A. in Economics and English from the University of the South and an MBA from the University of Virginia.
"The Board of Directors is confident that Halsey is the right leader for Milliken's next era," said Chandler, current president, CEO and board chair. "He has the experience to accelerate what is working very well today at Milliken and, importantly, introduce change where the organization can further leverage our emphasis on innovation, manufacturing excellence and customer care. He will lead an organization with a proven management team that knows how to translate strategy into effective execution and sustainable results. His experience in growing diversified, global businesses and his leadership style are an excellent fit for Milliken's values, culture and commitment to the community."
"I'm honored and excited to have been selected to lead Milliken," Cook said. "It is an esteemed company with talented associates and an opportunity-rich future. I am looking forward to meeting the team and listening to their ideas and aspirations for the next chapter of Milliken & Company."
July/August 2018