Peter J. Hauser, a professor in the department of Textile Engineering, Science, Chemistry and Science (TECS), at North Carolina State's College of Textiles, Raleigh, N.C., recently was awarded the Olney Medal by the American Association of Textile Chemists and Colorists (AATCC), Research Triangle Park, N.C. The award recognizes "outstanding achievement in textile chemistry, or in polymer or other fields of chemistry that are of major importance to textile sciences and fibrous materials."
Established in 1944 as a testimonial to Dr. Louis Atwell Olney, the Olney Medal is AATCC's highest scientific award. Hauser was presented with a gold medal, a scroll and an honorarium at the recent AATCC International Conference. He also gave presentation called, "What Is Cationized Cotton And Why Is It Needed?" at the conference.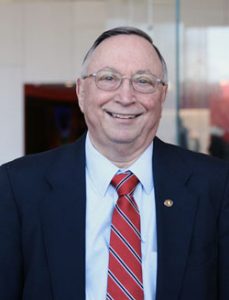 During his career, Hauser's research focused on indigo dyeing, cationic bleach activators and atmospheric pressure plasma textile finishing, among other topics. Hauser has authored or coauthored 120 peer-reviewed papers, three book chapters, one book on chemical textile finishing and edited two books on textile wet processing, and is a long-time Textile World Technical Editor. Some 10 U.S. patents were issued to Hauser and his coworkers.
Hauser has been an AATCC member since 1977, and served as AATCC president from 2013-14, and was immediate past president and chair of the Appropriations Committee from 2015-16. He continues to serve on the association's Foundation Board, as well as the Appropriations, Building and Grounds, Employee Benefits Committees, and various research committees.
"I have known Peter for many years and have followed his career at Milliken Research, Burlington Industries, The Virkler Company and now the College of Textiles," said John Y. "Jack" Daniels, executive vice president, AATCC. "Throughout his professional career, Peter has been an active member and friend to AATCC."
March/April 2018