San Francisco-based Levi Strauss & Co. (LS&Co.) has announced a new operating model — Project F.L.X. (future-led execution) — that focuses on a more sustainable supply chain and a cleaner jean. The company will transition to automated jeans finishing processes that will allow it to reduce the number of chemical formulations from thousands to a few dozen. The company previously had announced it was committed to achieving zero discharge of hazardous chemicals by 2020. In addition to eliminating the use of chemicals, it is anticipated that Project F.L.X. will reduce textile waste by better predicting market demands, and will save water.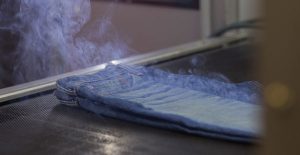 "Thirty years ago, jeans were only available in three shades — rinsed, stonewashed and bleached," said Bart Sights, vice president, technical innovation, and head, Eureka Innovation Lab, Levi Strauss. "We're designing a cleaner jean for the planet and the people who make Levi's® jeans, and we're doing it on a scale that no one else has achieved to date.
LS& Co. has leaned on long-time partner Spain-based Jeanologia to help unlock the benefits of digitally enabled design and development.
March/April 2018