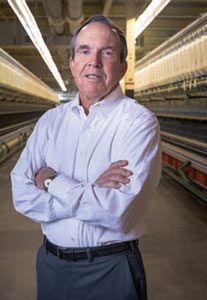 Robert "Rob" H. Chapman, III, recently passed away unexpectedly. The Chairman, CEO and treasurer of Inman Mills, Inman, S.C., was 66 years old. He was the fourth generation family member to run Inman Mills joining the company in 1976.
During his lifetime, Chapman served in many leadership roles within the textile industry as well as within his community. Last year, he was recognized for his contributions and inducted into the South Carolina Business Hall of Fame.
Chapman also was the immediate past chairman of the Washington-based National Council of Textile Organizations (NCTO).
"On behalf of the U.S. textile industry, NCTO extends its deepest sympathies to the Chapman family and everyone at Inman Mills," said NCTO President and CEO Auggie Tantillo.
"Rob's legacy is immense. In the last two decades, globalization, particularly the entry of China into the World Trade Organization, triggered the most disruptive change ever experienced by the U.S. textile industry. When other companies were going out of business, Inman Mills responded with a strategy of innovation, reinvestment and a willingness to adapt. Today, thanks to Rob's dedication and foresight, Inman Mills is one of the shining lights in the renaissance of the U.S. textile industry," Tantillo continued.
"Rob was also leader in crafting the U.S. textile industry's Washington, D.C.-based policy response to globalization.  It speaks volumes that Rob's peers chose him to lead NCTO in 2016-2017 when debate on the now failed Trans-Pacific Partnership (TPP), the biggest challenge to the U.S. textile industry since China's 2001 entry into the WTO, was coming to a climax," Tantillo added.
"Finally, on a personal note, Rob was a close friend. He was a true gentleman, unfailingly courteous, loyal and generous. Soft spoken and quick to deflect credit to others, Rob was a fierce competitor, driven by the desire to help his community and industry. Most of all, Rob loved his family and his many associates at Inman Mills. He dedicated his life to their well-being.
If there ever was any doubt that builders can build faster than destroyers can destroy, Rob was living proof. He will be greatly missed, but his legacy will long endure," Tantillo finished.
September/October 2017