Greensboro, N.C.-based Karl Mayer North America recently hosted an in-house exhibition. Some 271 attendees from 82 companies and organizations participated in the event. Most attendees came from the United States, but some traveled from Canada, Mexico and India. Attendees also came from various segments of the industry including weaving, knitting, composites, yarn manufacturing, apparel brands, aerospace, military and consulting.
The gathered textile manufacturers, brand representatives and yarn partners — including Unifi for Repreve® polyester, Nilit for nylon and Invista for Lycra® yarns — held lively and creative discussions about the Karl Mayer machines and their capabilities.
The event included warp knitting courses for visitors to familiarize themselves with the technology. Karl Mayer hosted six such sessions, and all were well-attended, according to the company.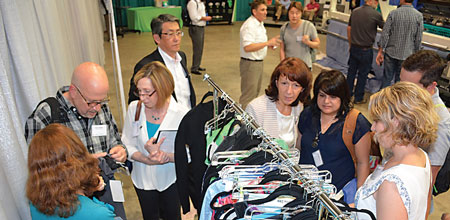 May/June 2016