The National Council of Textile Organizations (NCTO), Washington, has named Augustine "Auggie"
Tantillo president of the organization. Tantillo previously served as executive director of the
American Manufacturing Trade Action Coalition (AMTAC), which, along with the National Textile
Association (NTA), recently merged with NCTO in order to form a unified group to represent U.S.
textile industry interests in Washington, particularly with regards to the Trans-Pacific
Partnership (TPP) currently being negotiated among the United States and 11 other Pacific Rim
nations
(See "
The
TPP — High Stakes For U.S. Textiles,"
Textile World, May/June 2013).
Over the last 25 years, Tantillo also served in other capacities including chief-of-staff to
the late U.S. Sen. Strom Thurmond, R-S.C., and deputy assistant secretary of the U.S. Department of
Commerce for Textiles and Apparel.
Tantillo succeeds Cass Johnson, who served as NCTO's president from its beginnings in 2004
and previously as president of NCTO's predecessor, the American Textile Manufacturers Institute.
"We are incredibly pleased to welcome Auggie's leadership and many years of experience to
NCTO at such an important juncture of Trans-Pacific Partnership negotiations," said NCTO Chairman
William L. "Bill" Jasper. "In his new role as president, Auggie will continue NCTO's unparalleled
commitment to fighting on behalf of American textile manufacturing and jobs at home and abroad.
"We certainly wish Cass the very best in his future endeavors and remain grateful for his
dedicated service over the years to our organization and the broader U.S. textile industry," he
added.
"I come into this role at a critical time in the Trans-Pacific Partnership," Tantillo said.
"I will work to help the U.S. textile industry navigate through the details of this historic free
trade agreement. This agreement has the ability to significantly impact the U.S. textile industry
and our Western Hemisphere trading partners. With over 1.5 million jobs at stake, NCTO is committed
to ensure that this agreement will be satisfactory for our members and the broader U.S. textile
industry in this hemisphere."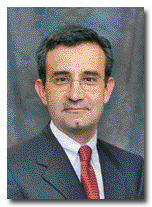 Augustine Tantillo
September/October 2013