India — August 7, 2013 — Grafica Flextronica, manufacturer and exporter of screen printing machines
and allied products for textile, graphics and industrial printing sectors, is launching the
nano-prinTag, world's fastest and first all electrical-mechanical automatic direct-to-garment
tagless label screen printing machine. The machine is being launched at the forthcoming KnitShow
exhibition, which is scheduled for 11-13 August 2013 in Tirupur, Tamil Nadu.
Bhargav Mistry, managing director, Grafica, said, "This is yet another breakthrough product
from Grafica. The machine is designed, keeping in mind the minimum power consumption and minimum
maintenance requirement. It runs without a compressor because there is no pneumatics inside, which
makes the machine fastest and trouble free."
Over the last three years, Grafica has been regularly introducing a range of Nano series
screen printing machines such as Nano-Print, Nano-Screen Maker 5-in-1, Nano-UV, Nano-Squeegee
Sharpener, Nano-Print plus, Nano-PrinTex, Nano-Texdryer, Nano-flashTex and allied products to meet
the global market demands.
"Each machine has found to be having tremendous potential and has been doing well with many
repeat orders within a year of their launch. And now, we are introducing Nano-PrinTag, which is
expected to be another revolutionary product," concluded Mistry.
Nano-prinTag has user-friendly touch-screen control panel for easy operation. It is possible
to 'print-flash-print-flash' multiple times on same piece. Grafica will also offer customised
pallets in various sizes and shapes for different applications.
Applications: Grafica's nano-prinTag can be used to print tagless neck label, high density
labels & logos for t-shirts/shirts, pocket/shoulder logo printing, socks/handkerchief, hand
gloves, jeans pocket, vest/ underwear/ innerwear, caps, transfers & high density labels, all
types of hosiery, garments & apparels, and many more.
Salient Features of nano-prinTag:

Speed: 2880 prints / hour
Index Accuracy: Below +/- 0.005 mm (5 microns)
No Pneumatics
No Compressor required
Available upto 4 colours/8 pallets
Single Phase
Plug N Play
Compact & space saving
Most competitive price
Technical specification:

Print area: 6″ x 6″ (15.25 cm x 15.25 cm)
Dimension: 3.75 feet (1.14 meter) for 3-colour machine
Minimum Power required: 220 V / 50 Hz – 5.2 kW, Single Phase (for 3 print heads & 3 flash
curing)
Weight: 240 kg (530 lb Pounds US)
Other features:

Multiple squeegee strokes for same piece
Multiple Index rotation
Clockwise or anti clockwise index rotation
Adjustable print mode to set squeegee movement from front to back or back to front
Laser registration guides for accurate placement for any type of job.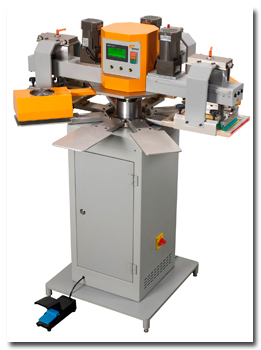 nano-prinTag



Posted August 13, 2013
Source: Grafica Flextronica