Germany-based twisting and embroidery machinery supplier Oerlikon Saurer — a segment of Oerlikon
Textile GmbH & Co. KG, Germany — recently hosted an open house at its showroom in Suzhou,
China, to present the new Allma TC2 cabler for industrial yarns. Guests from China, India and other
Asian countries were taken on a tour of the facility before viewing demonstrations of the new
machine.
The company reports the Allma TC2 has been designed to meet the high-quality demands of the
market while also operating in a highly flexible way with new spindle technology and winding units.
Yarns including polyamide, polyester, polypropylene, polyethylene and aramids in a wide range of
counts from fine to coarse may be cabled using the TC2. The machine operates at speeds of up to 450
meters per minute, and can produce even small lots and samples economically. According to the
company, the PrimePac twist packages produced on the machine feature a homogenous density, precise
length measuring for large running lengths and better unwinding properties.
Customers may visit the Oerlikon Saurer technology centers in Suzhou or Kempten, Germany, to
conduct their own trials using the TC2 cabler.
In related company news, Oerlikon Saurer recently shipped its 200,000th Allma cabling spindle
to China-based tire cord and industrial yarn producer China ShenMa Group Co. Ltd. At the recent
Suzhou open house, representatives from ShenMa were presented with a gold-plated cabling spindle to
mark the occasion. Allma's Head of Sales Wolfgang Schoeffl thanked ShenMa as well as all of Allma's
global customers for their loyalty and confidence in their products.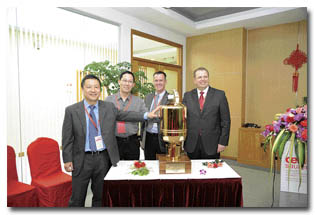 Representatives from Allma presented a gold-plated cabling spindle to representatives from
ShenMa to commemorate the 200,000th shipment of an Allma cabling spindle. (left to right): Thomas
Zhang, regional sales director, Oerlikon Saurer/Allma; Hou Yanbo, group vice general manager,
ShenMa Group; Alexander Kessels, general manager, Oerlikon Saurer/Allma; Wolfgang Schoeffl, vice
president sales, Oerlikon Saurer/Allma.


May 7, 2013