Tokyo-based Teijin Group's fiber-product converting company, Teijin Frontier Co. Ltd., has
developed a polyester curtain fabric that reportedly can trap twice the amount of pollen as
conventional polyester curtain fabric. The fabric will be available to manufacturers of lace
curtains beginning in March. Teijin Frontier is aiming to realize annual sales of 50 metric tons of
fabric in the fiscal year beginning April 2013 and 100 metric tons the following fiscal year.
To achieve the pollen-trapping function, Teijin Frontier has altered the polyester fiber
structure to have crimps as opposed to conventional adhering agents, resulting in a fabric that
retains its functionality as well as typical polyester fiber properties after repeated washing. The
fabric's cotton-like texture coordinates with a variety of interiors, according to Teijin.
In addition, the company offers a pollen-shedding polyester fabric for sports outerwear
applications. That fabric features static-electricity-resistant durable polyester thread that keeps
pollen from adhering to the garment.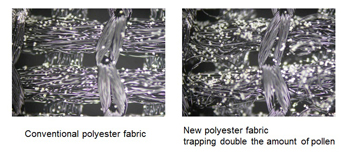 Left to right: These electronmicroscopic images show a typical polyester fabric and Teijin
Frontier's new polyester fabric trapping twice the amount of pollen.
February 26, 2013