Douglas Charles Billian, of Atlanta and New York City, founder and chairman, Billian Publishing
Inc., passed away on Sept. 15, 2012, at his home in Atlanta after a courageous battle with a brain
tumor.
Doug Billian was born on March 13, 1928, to Elsie Adelaide (nee Bowers) and Alfred Arthur
Billian in Bound Brook, N.J. The youngest of four boys, he was a New Jersey state pole vaulting
champion in high school. As a young boy, he joined the Boy Scouts, and attained the level of Eagle
Scout, earning Bronze, Silver and Gold Palms, and The Order of the Arrow. Through the years, he
generously supported the Boy Scouts of America.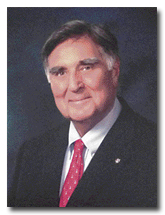 After graduating from the Kellogg School of Business at Northwestern University, he received
his Naval commission just prior to the Korean War outbreak, serving from 1950 to 1953. He served
aboard the USS Hyman (DD-732), which engaged the enemy in Wonsan Harbor in the Sea of Japan in
1951.
After a 20-year career with McGraw-Hill Publishing Co. on publications such as Purchasing
Week, Aviation Week and Business Week, he launched Billian Publishing Inc. in 1978, with the
acquisition of Golf World magazine. Subsequent acquisitions included

Textile World
and Art & Antiques. The company also launched Boating World. Today, Billian Publishing
primarily serves the healthcare industry through Billian's HealthDATA, Porter Research and
Healthcare IT Research. Its Textile Industries Media Group's titles include

Textile World
,

Textiles Panamericanos
and

Textile World Asia
.
"Mr. Billian had a long association with textiles and publications serving the textile
industry. He often spoke of how he enjoyed members of the textile industry and said that, even in
slow times, it was important for the industry to have a strong business press. Through the years,
he published titles including ATI and Textile Industries as well as current titles

Textile World
,

Textiles Panamericanos
and

Textile World Asia
," said James M. Borneman, editor in chief, Textile Industries Media Group. "He always
insisted on editorial quality and providing a platform to showcase technology and innovation in
textiles."
Billian was a former member of the Magazine Publishers Association and a lifetime member of
the National Association of Eagle Scouts sponsored by fellow Scout Astronaut Jim Lovell. He served
on the Board of Trustees of The United States Golf Association and Meals on Wheels Atlanta, and as
chairman of the IFC Senior Citizens Foundation.
He is survived by his devoted wife of 26 years, Louise "Lulu" Lindsey Billian; children,
Tracey Billian Krause, Martha Billian Meyer with spouse Dan, Lindsey Perkins Mullen with spouse
Tim, Charles Jackson "Jay" Perkins Jr. with spouse Michelle, and Douglas C. Billian Jr. with spouse
Jennifer; eleven grandchildren; brother Alfred Billian Jr. of Ft. Wayne, Ind.; and many nieces and
nephews.
As a depression-era child, Billian had deeply engrained values. He will be remembered for
his incredibly high moral standards, honorable character and utmost integrity. His unrelenting work
ethic, coupled with his love of publishing and investing, contributed to his success. However, his
intense belief in providing for his family drove his ambition. Those whose lives he touched have
been inspired by his example.
September/October 2012