The American Textile History Museum (ATHM), Lowell, Mass., has inducted Peter G. Scotese and
Masahiro Shima, Ph.D., into the American Textile Hall of Fame (ATHF), Class of 2012. ATHF
recognizes individuals, corporations and institutions that have contributed significantly to the
U.S. textile industry.
Scotese's textile industry career spanned 35 years. In 1969, he became the first non-family
member to be named president of Fort Mill, S.C.-based textile home furnishings manufacturer Springs
Industries Inc. He continued to serve as CEO until his retirement in 1981. He is credited with
shepherding Springs during a strong period of long-term growth.
Shima, founder, president and CEO of Shima Seiki Manufacturing Ltd., Japan, is the first
non-American ATHF inductee. He founded the company at the age of 24 to develop the first fully
automated glove knitting machine. The company debuted its WHOLEGARMENT® computerized flat-bed
knitting technology in 1995. It opened Shima Seiki U.S.A. in Monroe Township, N.J., in 1987 and the
Shima Seiki Design Center in New York City in 2006. The design center offers full-service
consultation and production services to the North American apparel industry.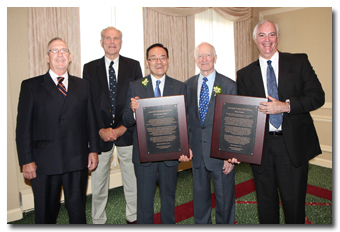 Left to right: Karl Spilhaus, chairman, ATHM Board of Trustees; George Shuster, chairman,
Textile Hall of Fame Committee; Toshio Nakashima, accepting on behalf of Hall of Fame inductee
Masahiro Shima, Ph.D.; Hall of Fame inductee Peter G. Scotese; and Jonathan Stevens, president and
CEO, ATHM.


September 25, 2012