United Kingdom-based calender roll manufacturer Richard Hough Ltd. (RHL) reports its Resilio roll's
two-layer construction eliminates the need for regrinding. The roll is capable of a working
lifetime of two to three years without regrinding, as opposed to traditional rubber-covered
dewatering rolls, which typically need to be reground every one to three years, causing significant
downtime. In that working lifetime, the Resilio roll also offers an estimated energy cost savings
of 70,000 to 100,000 euros, RHL reports.
The roll features a sub-layer, or squeezing layer, that is protected by a 2-millimeter-thick
outer layer. According to RHL Managing Director Anthony Ashton, there is a misperception that
because the top layer is so thin, there is little cover remaining to regrind, when, in fact, "only
the top layer is being pushed into fabric and cavities, and it does not require a perfectly-ground
surface to maintain these advantageous properties." Ashton noted the thin top layer also enables
the Resilio roll to squeeze out 20- to 30-percent additional moisture.
"We can also confirm that many of our regular customers are repeating orders – and to our
knowledge none has ever reground the Resilio cover," Ashton added.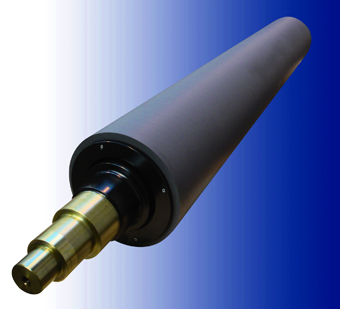 Richard Hough Ltd.'s Resilio roll


June 26, 2012