This month, Dothan, Ala.-based Twitchell Corp. — a manufacturer of fibers, textiles and coatings
used by global manufacturers of roller shades, pool and patio furniture, awnings and screens,
contract interior products, geotextiles, safety products, automotive interiors and disposable
operating room supplies; as well as the U.S. military — celebrates 90 years in business.
Since 1922, Twitchell has been a leader in quality yarns and fabrics across a variety of
industries. A niche focus, product innovation and flexibility drive the company's success
(See "
Reinventing
Twitchell,"
Textile World, March/April 2006).
Although Twitchell has been around for almost a century, its commitment to its customers
hasn't changed. Jeff Register, CEO and president, Twitchell, says customer service will always be
an important part of Twitchell.
"Our customers are a large part of what has kept Twitchell alive for 90 years, and we are
forever grateful," Register said. "Twitchell will continue to make customer service a priority for
the next 90 years," he added.
Twitchell celebrated its 90th birthday internally with an employee cookout May 3. Lori Ward,
a representative from Congresswoman Martha Roby's office presented Twitchell with a Congressional
Record; a proclamation was read from Dothan Mayor Mike Schmitz; and a resolution was made by Matt
Parker, president of the Dothan Area Chamber of Commerce, to declare May 3 "Twitchell Day."
"Making it to 90 years has nothing to do with luck," Register said. "It has everything to do
with our employees. We wanted to take the time to recognize and thank our employees, and make sure
they remember how important they are to Twitchell."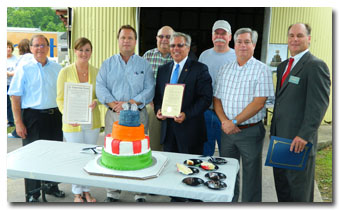 (front row, left to right): Hayne Hollis, Lori Ward (representative from Congresswoman Martha
Roby's office), Twitchell President Jeff Register, Dothan Mayor Mike Schmitz, Twitchell CFO Billy
Shellhouse, and Dothan Area Chamber of Commerce President Matt Parker

(back row, left to right) Barry Kraselsky, Twitchell VP Operations, and Tim Gilmore
May 15, 2012