LONDONDERRY, N.H. — April 18, 2012 — Klüber Lubrication, one of the world's leading manufacturers
of specialty lubricants, will be displaying its line of nonylphenol ethorxylates (NPE)-free Madol
900 N Series needle and sinker oils at Techtextil North America, April 24-26 at the Georgia World
Conference Center in Atlanta, Ga.
Klüber's environmentally friendly Madol 900 N Series is the most extensive line of NPE-free
needle oils in the market today. They are used to lubricate needles, sinkers, cams, cylinders,
dials and sinker rings of large-diameter knitting machinery. The oils fulfil the wide-ranging
operational requirements found in today's modern knitting mills and are suitable for applications
in circular and flat-bed knitting equipment. The Madol 900 N Series protects needles from excessive
wear, corrosion and rust and are easily washed out under normal scour procedures.
Research has found that NPEs can be extremely harmful to the environment and to people.
Klüber developed the Madol 900 N oils as a safer and successful alternative to conventional
NPE-based oils.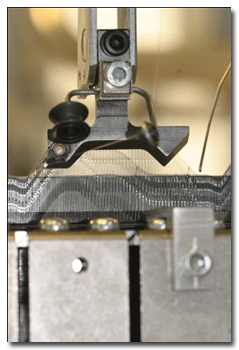 Needle and sinker in circular knitting machines


Techtextil North America is North America's only dedicated show for technical textiles and
nonwovens. It covers all vertical aspects of the technical textile industry, including research and
development; raw materials and production processes and conversion, further treatment and
recycling.

Posted on April 19, 2012
Source: Klüber Lubrication North America