McAllen, Texas-based FibeRio Technology Corp. — a company created to commercialize Forcespinning™
technology, which uses centrifugal force to spin nanofibers, nanowires and nanorods — reports its
Cyclone™ Fiber Engine (FE) 1.1 is the first industrial-scale model utilizing Forcespinning
technology that is capable of continuously producing nanofibers via solution and melt spinning. The
system builds on FibeRio's efforts to scale up its Cyclone L-1000 Forcespinning research laboratory
equipment to commercial production. The new model also enables an increased range of materials to
be processed and products to be manufactured at significantly reduced costs. FibeRio designed the
machine to be integrated into an existing nonwoven production line to increase its productivity; or
to be delivered as a discreet roll-to-roll system for specialty products or limited runs.
According to the company, the Cyclone FE 1.1 is able to produce nanofibers with diameters
averaging 500 nanometers and below with a very tight standard distribution that ensures uniform
slip flow, barrier or absorption, among other properties; and features a proprietary design that
uniformly deposits the nanofibers across its 1.1-meter width. Raw material is fed to the machine
via an advanced extrusion and solution pump system that can be controlled discretely or by software
custom-designed to interface with the customer's factory floor controls.
"Over the past year we have received an outstanding response to our technology and
equipment, with the largest nonwovens and filtration companies in the world asking us to provide
them with equipment that will expand the market for nanofiber functionalized media through new
materials and lowered cost," said Ellery Buchanan, CEO, FibeRio. "The Cyclone FE 1.1 has
unparalleled output capacity and eliminates the requirement for toxic solvents making it the
perfect manufacturing platform to spread across multiple business units. Nonwovens and filtration
companies can now proceed rapidly to establish a secure, competitive position. It is a very
exciting time for FibeRio and the nonwovens industry at large."
FibeRio will launch the Cyclone FE 1.1 at the Filtration 2011 International Conference and
Exposition, organized by the Cary, N.C.-based Association of the Nonwoven Fabrics Industry (INDA)
and to be held in Chicago November 15-17.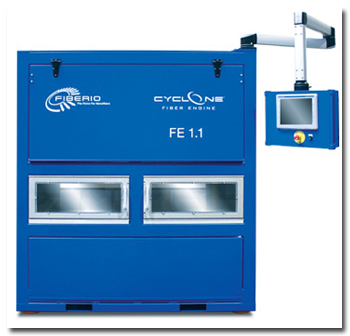 FibeRio's Cyclone™ FE 1.1 industrial-scale machine utilizing Forcespinning™ technology


October 25, 2011