Rieter Machine Works Ltd., Switzerland, now offers the J 20 air-jet spinning machine, featuring up
to 120 spinning units — making it the longest air-jet machine available — and independently
operating sides — allowing two different yarn types to be spun simultaneously.
The company reports the machine's new spinning unit produces yarn with improved strength and
reduced incidence of imperfections. The J 20 is equipped with two robots on each side, for a total
of four, which maximizes production efficiency. The drive frame includes integrated centrally
driven ventilators, electric and electronic systems, and supply and disposal connections. On each
machine side, there are separate filter chambers to process waste from the spinning positions and
the robots, enabling collection of uncontaminated waste from separate streams that can be further
used.
The drive train is designed with bobbin delivery lowered to a height of 1.45 meters,
optimizing operator control of the bobbin conveyor belt and facilitating transfer of the bobbins to
pallets. The end section comprises the service area for the rear robot, as well as a stand-alone
tube feeder that can accommodate 350 empty tubes and which features separate tube chains for the
left and right sides of the machines, allowing the use of different colors of tubes for each side
to help identify the different yarn qualities being spun on each side.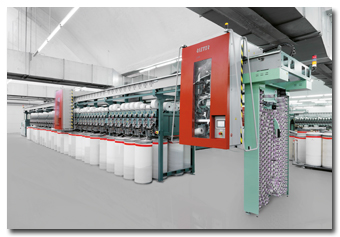 With 120 spinning units, the Rieter J 20 is the longest air-jet spinning machine
available.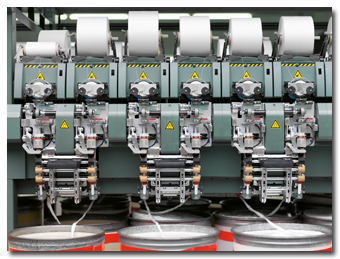 The J 20's new spinning unit produces yarn with improved stability and yarn values.
September 6, 2011