Last week was a busy week for the international textile trade press: first, the presentations of
the French textile machinery manufacturers
(see "
The
Rupp Report: The French Look Ahead To ITMA 2011," www.
TextileWorld.com, May 24, 2011); then Techtextil 2011 in Frankfurt. And last
weekend, there was a continuation of the international merry-go-round of country presentations in
preparation for ITMA 2011 in Barcelona. This time, it was the Swiss Mechanical and Electrical
Engineering Industries' (SWISSMEM's) Textile Machinery Division, which has always played an
important role in the global textile business.
Swiss Design

SWISSMEM Textile Machinery Division President Christian Kuoni and General Secretary Dr. Lukas
Sigrist welcomed a considerable number of people in the rural village of Appenzell. A dozen of the
Swiss manufacturers presented their new and modernized machinery and exhibits, which will be shown
at ITMA 2011 in Barcelona. It was obvious that also the Swiss manufacturers are going global —
including in the production of their products. Some of them presented machinery not only from
Switzerland but also from other European and — of course — Asian countries such as China and India.
SWISSMEM

The Swiss Textile Machinery Division includes more than 40 globally active manufacturers, and
important machine components or process-related accessories and services providers. The Swiss
textile machinery industry runs global networks with production facilities, local representatives
and service organizations in all major markets. It enjoys an excellent reputation in the downstream
textile industry.
The association is committed to ensuring political conditions that promote successful
business. It also provides all kinds of support to its members in their business activities,
including communications, providing information, or organization of joint promotional activities
like a presence at trade fairs such as ITMA. The association also represents its members' interests
in the European Committee of Textile Machinery Manufacturers (CEMATEX), which is the owner of the
ITMA brand and respective activities. Employing some 330,000 people, SWISSMEM represents by far the
largest employer base in Switzerland. In 2010, its members exported goods worth 68 billion Swiss
francs, representing 40 percent of all goods exported from Switzerland.
Swiss Participation

According to Sigrist, 64 Swiss exhibitors will participate at ITMA 2011, occupying 6,200
square meters of floor space. All Swiss exhibitors are ready to show their competence in
anticipating customers' requirements and in driving technological innovation as promoted in the
Factor+ campaign launched by the association for Swiss textile machinery manufacturers. The
promotion aims to highlight the extra added value that customers receive from original products and
innovative system solutions of Swiss suppliers.
"Customers worldwide can benefit from the expertise of Swiss providers," Kuoni said. "In
buying Swiss quality, customers not only receive first-class technology in products and system
solutions but also a reliable partnership, and excellent service, training and advice based on
profound knowledge and broad experience. Obviously, the "plus" element of service can increase the
potential benefits of products, [and] facilitates high output, low energy consumption and space
requirements, efficient material utilization and consistent quality." He went on to say that
"investing in products and solutions from the Swiss textile machinery industry enhances value, thus
offering that certain 'plus' in terms of security, reliability and trust."
Excellent 2010

After a painful period of nearly two years, the sector realized a strikingly good result in
2010. Swiss textile machinery and components exports grew by 50 percent year-on-year, reaching a
volume of 1,318 million Swiss francs. The figures are quite impressive:
Swiss Textile Machinery Exports In 2010
Regional Breakdown

*including Turkey
Main Markets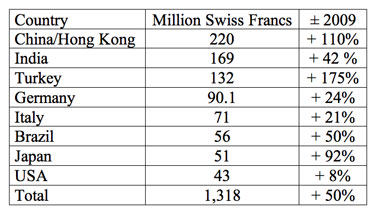 Promising 2011 …

Sigrist and the member companies are looking forward to a promising ITMA 2011 as well as the
year 2011. He said the remarkable rise in new orders during 2010 resulted in a backlog of work
going well into the year 2011. Moreover, he said, in the first quarter of 2011, exports were up by
55 percent year-on-year, and reports from the sales front indicate that new orders remain buoyant.

Swiss Textile Machinery Export Trends 1st Quarter 2011

Important Markets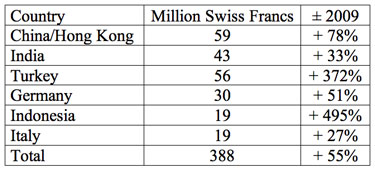 … With A Question Mark

Nevertheless, nobody knows how sustainable the current situation is. A very serious problem
is the strong Swiss franc compared to the U.S. dollar and the euro. The feeling among the current
member companies was one of optimism with some hope of stabilization. However, the association
says, the overall results for 2011 should be well above last year's level.
May 31, 2011