Spartanburg-based specialty chemicals, floor covering and performance materials manufacturer
Milliken & Company has rededicated its Blacksburg, S.C.-based Cypress Plant in honor of Dr. G.
Ashley Allen, who retired from his position as president and CEO of the company in 2008. The
facility, Allen Plant, is the company's primary chemical manufacturing plant.
A new sign to be placed at the plant's entrance was unveiled during a special ceremony at
newly named Allen Plant.
"This rededication of the plant honors Ashley Allen's remarkable forty-one year career with
the company and his successful championing of innovation," said Milliken President & CEO Dr.
Joe Salley. "During his ten years of leadership of the Chemical Division, the company achieved a
global leadership position in its additives and colorant businesses."
Acknowledging the renaming of the plant as "an extraordinary honor for me," Allen said: "No
action by the Board could have meant more to me than their naming the Allen Plant in my honor. I am
very pleased and humbled by their decision."
Allen, who earned a bachelor's degree in chemistry at Washington & Lee University and a
doctorate in organic chemistry at Cornell University, joined Milliken in 1969, serving first as a
research chemist and eventually becoming president of the Chemical and Packaging Division. His
responsibilities later grew to include the Industrial Specialties Division and Milliken Research.
He was named president and COO in 2002 and president and CEO in January 2006, and served for six
years on Milliken's Board of Directors. Allen was the first person outside of the Milliken family
to serve as the company's CEO.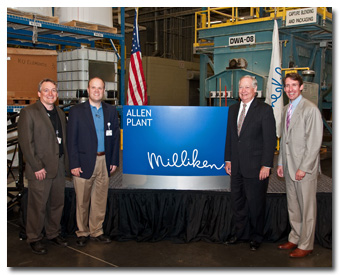 Left to right: Allen Plant Leader Jeff Crim, General Director of Manufacuring John Kellam,
Ashley Allen, and President and CEO Joe Salley show off the new sign that will be placed at
Milliken & Company's Allen Plant entrance.
May 17, 2011