Switzerland-based Uster Technologies AG — a supplier of textile testing and monitoring
instruments, systems, and related services — is celebrating the 50th anniversary of the yarn
clearer, including its current iteration in the Uster Quantum 2.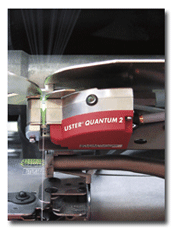 Uster Quantum 2 yarn clearer, shown on a winding machine
Uster reports its yarn clearers have undergone continuous development from the beginning, and
that it has sold nearly 2 million of its Quantum generation of clearers. "Customers are entitled
never to expect less than the full innovative power of Uster," said Dr. Geoffrey Scott, CEO, Uster
Technologies.
The company will showcase its latest testing instruments at the upcoming ITMA Asia + CITME
2010 in Shanghai.
June 8, 2010