Amherst, N.Y.-based Birdair Inc., a specialty contractor for lightweight, long-span roofing systems
and custom tensile architecture applications worldwide, has been chosen as the roofing
subcontractor for three of four primary 2010 Federation Internationale de Football Association
(FIFA) World Cup Stadium projects in South Africa.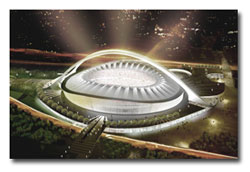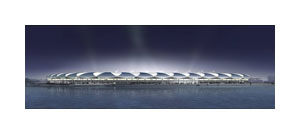 Artist's renderings of Durban Stadium, Durban, South Africa (top), and Nelson Mandela Bay
Stadium, Port Elizabeth, South Africa (bottom), which will feature PTFE membrane roofs designed and
constructed by Birdair Inc. The stadiums are two of the four primary 2010 FIFA World Cup Stadiums
being built in South Africa.
Each of the three athletic facilities will feature a unique roof design. The Green Point
Stadium in Cape Town will have a bowl-shaped glass roof with a mesh liner, and the Durban Stadium
in Durban and Nelson Mandela Bay Stadium in Port Elizabeth will have sweeping architectural
polytetrafluoroethylene (PTFE) fabric membrane roofs. The facilities will offer natural
daylighting, solar shading, open-air design and other features linked to tensile architecture.
"We're honored that our range of experience in the global stadium sector has led to Birdair's
involvement in the 2010 World Cup," said Kevin Mayer, vice president of business development,
sales and marketing, Birdair. "We look forward to realizing each stadium's custom roofing design."



October 7, 2008