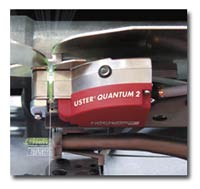 Switzerland-based
Uster Technologies AG reported that it has delivered 1.5 million of its Uster® Quantum yarn
clearers, citing this latest milestone as proof that the spinning sector increasingly demands
online quality control during production.
According to the company, the Uster Quantum's success comes from its ongoing technological
development in response to customers' needs, which has made its yarn clearers — specifically the
Quantum 2 — an "indispensable tool" for spinners worldwide.
Quantum 2 highlights include: capacitive basic clearing combined with optimized foreign
fiber cleaning; advanced clearing limit optimization using computer aided yarn clearing; detection
of low-intensity foreign fibers; a vegetable filter to filter out plant matter; total production
quality monitoring on the same basis as the Uster Tester and Uster Classimat Quantum; and detection
of white and colored polypropylene; among other highlights.
May 13, 2008