Sweden-based Eton Systems AB has expanded its North American operations to meet increasing demand
in bedding and other textile market segments.
As part of the expansion, Eton has entered into a marketing partnership with West Babylon,
N.Y.-based Galkin Automated Products, a manufacturer and marketer of automated workstations and
production equipment for mattress and other sewn-products markets. Galkin will market Eton's line
of computerized conveyor and shop floor data collection solutions to North American mattress
manufacturers.
Eton's expansion efforts also include a reshuffling of internal sales and marketing
positions. Gary Freedman, Latin American sales manager, will also now focus on strategic business
development activities in North America. Per Bringle, appointed North American area manager in
2007, has worked to focus Eton's development efforts on high-potential, fast-growing market
segments.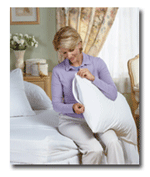 National Allergy Supply Inc., a producer of healthy bedding mattress and pillow
encasements, recently ordered additional Eton workstations.
In other company news, Eton recently sold a second line of 15 Unit Production System
workstations — used in the sewn-products industries to automate material flow and minimize material
handling during the manufacturing process — to be installed at National Allergy Supply Inc.'s
Cornelia, Ga., facility. National Allergy, a Duluth, Ga.-based manufacturer and marketer of healthy
bedding mattress and pillow encasements, installed its first line of Eton workstations at the
Cornelia plant in August 2007.
"Our first Eton installation worked so well that we knew immediately that we wanted more,"
said Lee Hardy, general manager and vice president of manufacturing, National Allergy Supply. "In
just a few months, we have far exceeded our original expectations by achieving an 80-percent
increase in productivity with Eton. The second line will enable us to incorporate all current
production on Eton, as well as provide for expected growth in sales."



January 8, 2008