Fashion merchandising students at the University of Georgia (UGA), Athens, Ga., have designed,
sourced and produced a line of T-shirts and sweatpants that are now available at the UGA bookstore.
Under the guidance of Charles Gilbert — Distinguished Professor of soft goods merchandising
and manufacturing in the College of Family and Consumer Sciences, and a consultant to the apparel
industry for more than 40 years — the students determined the details of each product, made
production arrangements and sought trademark permission from the UGA Athletic Department.
"I wanted the students to learn from start to finish what it means to make a product,"
Gilbert said. "The class that designed the T-shirt focused on domestic manufacturing, while the
other class worked with suppliers located in China."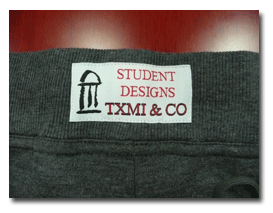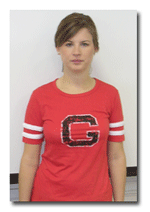 Students in Gilbert's apparel manufacturing class chose Jefferson, Ga.-based Buhler
Quality Yarns Corp. to supply organic Pima cotton for the T-shirt. The cotton was then knit, cut
sewn, dyed and screen-printed by Fessler USA, Orwigsburg, Pa.
Students in Gilbert's global sourcing class dealt with China-based Loudania for the
manufacture of the sweatpants. "The students get to see every tiny cost of production, especially
overseas," said Gilbert. "They have to pay duty and quota costs along with air freight, all of
which add an additional $5.66 per garment to the wholesale price."
The sweatpants retail at the UGA Bookstore for $40, while the T-shirt is $29. The college
will use the proceeds to buy materials and equipment necessary to keep the program going. Gilbert
anticipates next semester's classes will produce new products.
"Most of these students will be merchandisers or buyers for the retail industry," he added. "
These courses will make them better merchandisers and buyers with the knowledge they have gained on
design, production and sourcing; but it also gives them more avenues in their careers such as
apparel designers, suppliers and sourcing agents.



November 19, 2007