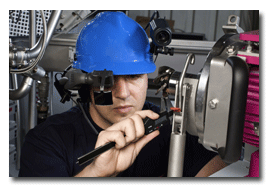 Switzerland-based
Rieter AG now offers a Web-based audio-visual (AV) communications system that allows the company to
provide virtual onsite, interactive customer service and support for its machinery in real time.
The I-BORO® system — developed by Rieter Automatik GmbH, a Germany-based subsidiary of Rieter
Textile Systems — consists of a safety helmet fitted with a camera, control display screen, mini-PC
and headset. When customer support is needed, the machine operator can put on the helmet and
contact Rieter over the network, using the camera to show a Rieter technician where a problem is
located. The technician then provides the operator with diagnostic steps and instructions for
resolving the problem. The new system also enables instant conferencing via links with other Rieter
specialists when additional troubleshooting is necessary.
According to the company, using the I-BORO system will minimize downtime and eliminate the
need for service technicians to travel to the problem site, resulting in significant cost savings.
November 27, 2007