A total of nine Innovation Prizes were awarded at last week's Techtextil and Avantex symposia,
which accompanied the corresponding Techtextil, the International Trade Fair For Technical Textiles
and Nonwovens, and Avantex, the International Forum for Innovative Apparel Textiles — events held
in Frankfurt, Germany. The goal of the competitions is to promote new ideas and innovations in the
high-tech textiles field, as well as to promote the transfer of ideas among research, industry and
end-user.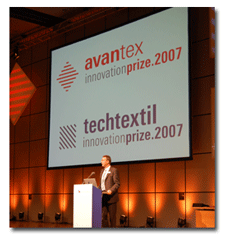 Michael Jänecke, brand manager, Techtextil Avantex, Messe Frankfurt Exhibition GmbH,
presents the innovation honorees during the recent Techtextil held in Frankfurt, Germany.
The following Techtextil Innovation Prizes were awarded:
New Material Developments

Technical blade of grass: Dr. Markus Milwich, Prof. Heinrich Planck, and Dr. Thomas
Stegmaier, Institute for Textile Technology and Process Engineering, Germany; and Dr. Prof. Thomas
Speck and Dr. Olga Speck of the Plant Biomechanics Group at the University of Freiburg, Germany,
developed this bionically optimized composite fiber material whose potential application areas
include such fields as aerospace, automotive, construction and apparatus engineering, where there
is a demand for tube-shaped structures, as well as medical purposes such as prosthetics.
New Areas of Application

Intelligent Impact Protection: Dr. Liz Mallen, Dr. Steve Robson, Graham Budden, Ph.D., and
Dr. Rich Sibbick, Dow Corning Corp., Midland Mich., developed a textile that serves as an
alternative to hard armoring, becoming solid upon impact but otherwise remaining flexible for
freedom of movement.
Auxetic Fabric: Dr. Patrick Hook, Auxetix Ltd., England; John Stimpson, Heathcoat & Co.
Ltd., England; and Prof. Ken Evans, Exeter University, England, developed a fabric that reduces
pressure created by explosions, offering new application possibilities in the security and
protection sectors.
Self-Cleaning Textile Surfaces with a Nano Finish: Dr. Ralf Nörenberg, Wolfram Badura and
Sylvia von Krog, BASF AG, Germany, developed a finish that repels oil, water and particles, and
whose potential application areas include tents, parasols and awnings.
Functional Translucent Concrete: Dr. Gerd Frankze, Helge Hausding, Dr. Evelin Hufnagl, and
Dr. Chokri Cherif from the Institute for Textile and Apparel Technology at the Technical University
of Dresden, Germany, developed a process based on the automatic fixation of rod-shaped elements
made of solid or tubular fibers in matrix or mat form. The process allows the integration of
additional features to provide for the transmission of signals or modification of room climate,
among other functions.
New Products

Water-Saving Irrigation Mat: Dr. Holger Erth, Rolf Arnold and Reinhard Helbig of the Saxon
Textile Research Institute at the Technical University of Chemnitz, Germany; Thomas Roess,
Internationale Geotextil GmbH, Germany; and Dietmar Haub, Eco Rain GmbH, Germany, developed a mat
made of two nonwoven layers of fabric with perforated tubes that enable water savings of up to 70
percent, according to the developers. Application areas may include agriculture, landscaping and
horticulture, especially in hot and dry climates.

Honorees were recognized for their innovative developments in technical textiles.
The following Avantex Innovation Prizes were awarded:


Innovative Apparel
Photo-luminescent textiles with long-term effect: Jean-Marc Viénot, Imasol Sprl, Belgium;
Christian Fombert, Setila S.A., France; and Michel Sarazain, Idem Conseil, France, developed a
textile that emits light for more than 12 hours, and with apparel applications such as rain,
motorcycle, work and sports.
Bionic climate membrane: The development team at Switzerland-based Schoeller Textil AG
developed the c_change™ wind- and waterproof membrane technology capable of controlling water-vapor
permeability, whose application area may include apparel.
Anatomic motorcycle suit: Designer Jasmin Julin-Aro with the research and design team from
Rukka/L Fashion Group Oy, Finland, developed a breathable, windproof, climate-controlled motorcycle
suit that incorporates an intelligent impact-protection textile that becomes a solid shield upon
impact. The suit uses Outlast climate-control technology and the Dow Corning® Active Protection
System.
---

June 19, 2007