Fenner Dunlop Worldwide, England, recently placed an order for 12 GS900 rapier weaving machines
from Italy-based SMIT Textile. With twelve facilities in eight countries, Fenner Dunlop
manufactures a range of conveyor belting for many different industries and applications from coal
mining and power plants to package handling and process automation. The company's facilities in the
United States Georgia Duck Conveyor Belting, Scottdale, Ga.; and Scandura Conveyor Belting,
Charlotte already use 21 SMIT looms for their operations.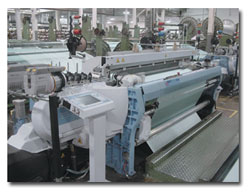 The new machines are destined for Georgia Duck Conveyor Belting's facilities. Delivery has
commenced and will be completed by the end of November. The GS900 representing the evolution of
SMITs G6300 rapier weaving machine has gained wide acceptance and a strong foothold in the
technical fabrics market, according to SMIT. The machines mechatronic solutions offer enhanced
versatility and efficiency. The company reports it also offers excellent insertion rates, and its
compact construction gives it a sturdy frame that guarantees vibration-free running, even at high
speeds.

October 2005