Chilewich LLC, New York City, has
added 18-inch modular tile to its line of Plynyl woven vinyl floor coverings.
Plynyl Tiles feature the company's Basketweave style woven vinyl fabric face, which has been
re-engineered to have sharp, clean tile edges; and a backing comprising a two-layered vinyl cushion
and an intermediary nonwoven stabilizing layer. Available in eight colorways, the tiles may be
installed in either a uniform or a random configuration. They have 20-percent recycled content and
are themselves recyclable as well.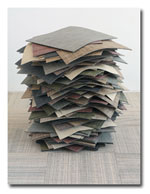 Chilewich also now offers Solid Shag tufted vinyl floor covering in three colors — black,
gunmetal and lime — that may be used independently or in coordination with striped combinations in
the Plynyl Shag collection launched last year.
October 2005