At the recent National Green Power Marketing Conference in Albany, N.Y., the US Environmental
Protection Agency, US Department of Energy and Center for Resource Solutions presented
Atlanta-based carpet and upholstery fabrics manufacturer Interface Inc. and its Interface Fabrics
and Bentley Prince Street companies with a Green Power Leadership Award. The award recognizes
Interface's purchases of renewable energy credits (RECs) equivalent to 8,807 megawatt hours of
power. Bentley Prince Streets commercial carpet facility in City of Industry, Calif., generates 100
percent of its electricity using RECs and other green sources. Interface Fabrics uses Green-e
certified wind RECs to produce 1 million linear yards of Terratex® upholstery and panel fabrics per
year. Interface Flooring Systems also uses wind RECs to power its operations.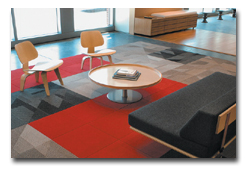 Interface Inc.'s Atlanta showroom opened in Spring 2004.

In other news, Interfaces showroom in Atlanta has received the first Platinum Award for the
US Green Building Councils Leadership in Energy & Environmental Design for Commercial Interiors
(LEED-CI) Pilot Program. The showroom meets or exceeds LEED-CI criteria for site selection, water
and energy efficiency, atmosphere, construction waste diversion from landfills, furniture and
fixture reuse, and indoor environmental quality.
December 2004